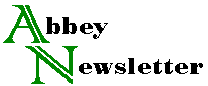 Volume 8, Number 6
Dec 1984
Literature
Selected Contents of Significant Publications

The New Library Scene, Oct. 1984, v.3 (5):
"Preparations for Binding... Things Library School Never Taught Us," by Douglas Phelps (Director, General Technical Services, Vanderbilt Univ. Library). p. 1, 5, 7-8. A librarian experienced in bindery preparation gives advice to beginners.

"Methods of Affixing Leaves: Options and Implications," by Paul Parisi (President, Acme Bookbinding Co.). p.9-12. Appeared originally in this same journal (NLS) Oct. 1983; reprinted because of the large demand for reprints.

Guild of Book Workers Journal, v.22 (1), Fall/Winter 1983.
EDITOR'S STATEMENT

ARTICLES

ENGLISH CRAFT BOOKBINDING. 1880-1980
Bernard c. Middleton

THE EFFECTS OF DRY FIBER LENGTH MANIPULATION [SHREDDING] PRIOR TO BEATING ON THE FOLD ENDURANCE, TEAR RESISTANCE, OPACITY, AND FORMATION QUALITY OF A LINEN RAG PAPER
Timothy Barrett

CONSERVATION PAPER COVER AND CASE CONSTRUCTION REBINDING
Gary Frost

DIALOG

BINDING-BINDER-BUYER: A STRAINED TRINITY
Decherd Turner

REPLY
Anne and David Bromer

BOOK REVIEWS

THREE RECENT BOOKS ON PAPER MARBLING
LIBRARY MATERIALS PRESERVATION MANUAL
EXCERPTS ON LEATHER

EXHIBITION REVIEWS
BOOKBINDING IN AMERICA: 1680-1910
GERARD CHARRIERE
BOOKS ALIVE
ONE CUBIC FOOT

Leather Conservation News, No. 3, Summer 1984
A report of the Leather Refresher Course, by Sonja Fogle
A notice that the papers and discussion from the leather refresher will be printed if enough people write to Toby Raphael (Div. of Conservation, Natl. Park Service, Harpers Ferry, WY 25425). Same with English translation of the 1978 Lund Conference.
A long summary of Protein Chemistry for Conservators (Carolyn L. Rose and D. W. von Endt, ads.; AIC, 1984) by Sonja Fogle. Excerpt: "The loss of the ability of leather to regain normal moisture may involve many factors including denaturation, elimination of interfibrillar spaces, accumulation of salts or the creation of a water barrier by the oils contained in leather dressings."
A descriptive review or summary of "The Saddle Soap Myth," by Herndon Jenkins, The Carriage Journal 21(1) 5-6, 1983, by Toby Raphael. Saddle soap was developed for use by curriers to carry oils into the leather, not to clean it; today it is obsolete.
An "interpretation" or summary of The Conservation of Bookbinding Leather, the report of BLMRA on work done by Betty Haines at ml. for the British Library.
"Technical and Chemical Notes" on leather microscopy.
"Preservation of Leather and Skin Products," a chart listing causes, preventive treatments and laboratory treatments of deteriorated leather and skin. "Museum staffs have within their power the means to affect or control nearly all of the reasons for leather deterioration." Dressing per so is not listed, but similar treatments are. They are "degrease, relubricate," "balance fat and water content," and "humidify." None is an all-purpose treatment. About 10 other possible treatments are listed.

The Paper Conservator: Journal of the Institute of Paper Conservation, v.7, 1982/83 [received November l984]
| | |
| --- | --- |
| James Bruce | A survey of the original binding and rebinding techniques of registers in the Queensland State Archives |
| Anthony Cains | Repair treatments for vellum manuscripts |
| John A. Gibson & David Reay | Drying rare books soaked by water: A Harwell experiment |
| Pamela Spitzmueller | A trial terminology for describing sewing through the fold |
| | Selective bibliography of occupational safety and health publications for paper conservators -to 1982 |
| | Manufacturers and suppliers of protective clothing and equipment |

Adhesives and Consolidants, Preprints of the IIC Congress in Paris in September, is available from the IIC office for $20. It is not described as the printed version of papers presented orally there, but as "background material to the papers presented," presumably because the version presented was shorter or different. It is over 200 pages long, and includes the following papers:
Adhesive testing at the Canadian Conservation Institute, past and future, by Jane L. Down

Polymer dispersions artificially aged, by Rachel Howells et al.

The conservation of leather bookbindings, by B. N. Haines Graft copolymerization as a method of preserving papers: Problems and potentialities, by N. L. Burstall at al. Natural adhesives in East Asian paintings, by John Winter "Nikawa"--Traditional production of animal glue in Japan, by Tsunseyuki Morita

The manufacture and use of Japanese wheat starch adhesives in the treatment of Far Eastern pictorial art, by Paul Wills

Vegetable adhesives used in the workshop of the Hyôgushi, restorer and mounter of Japanese paintings, by Katsuhiko Masuda