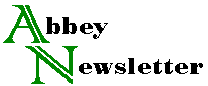 Volume 8, Number 5
Oct 1984
Positions Open
ASSISTANT CONSERVATOR, WORKS OF ART ON PAPER
Yale Center for British Art
The candidate should have a graduate degree from an art conservation training program or equivalent apprenticeship training. The assistant paper conservator will work with the paper conservator on collections from the Yale Center for British Art and the Yale University Art Gallery.
Spacious, well-equipped modern paper conservation laboratory. Duties include examining works of art on paper, preparing reports and performing conservation treatments.
Fine research facilities in the areas of art history and artists' materials and techniques. One-year appointment (renewable). Send resume and references to: Conservation Department, Yale Center fur British Art, Box 2120 Yale Station, New Haven, CT 06520. Deadline, October 1, 1984.
[Note: Although the deadline Has passed, it might not hurt to apply anyhow. Deadlines are sometimes extended. -Ed.]
LIBRARY CONSERVATOR
Columbia University Libraries
This is a new position, with primary responsibility for planning and developing procedures and methods for the treatment of library materials in the Columbia University Libraries. Initial duties will involve space and equipment planning for the establishment of a conservation lab. The incumbent will then establish procedures for the treatment of library materials, perform the treatments, and train and supervise staff. Other duties will include assisting in exhibitions, disaster recovery programs, testing materials, and related environmental projects. The position will report to the head of the Preservation Department and participate in the library's overall preservation program, which includes microfilming and commercial binding.
In addition to an undergraduate degree, requirements are: knowledge of conservation practice and procedures as demonstrated through previous relevant experience and/or successful completion of a formal program in conservation of library materials. Evidence of the ability to perform a wide range of conservation treatments in a research library environment, creativity, and supervisory capabilities will be sought. Preference will be given to applicants with an accredited MLS.
Submit resume, listing salary requirements and three references, to: Box 35, Butler Library, Columbia University Libraries, 535 W. 114th St., New York, NY 10027. Deadline for applications is January 4, 1985.
An affirmative action/equal opportunity employer.
PAPER CONSERVATOR
Folger Library, Washington, DC
The Folger Shakespeare Library is seeking a paper conservator who, under the general supervision of the Head Conservator, will be responsible for the treatment of works of art on paper, manuscripts, and other paper artifacts. Additional duties will include working with curators in selecting and determining treatments of collection materials, assisting in supervising interns, and assisting in the installation of exhibitions.
Graduation from an accredited conservation program or equivalent experience is required. Preference will be given to the person who has working experience with library and archival material.
Fringe benefits include three months paid sabbatical after four years, major medical, educational assistance, and leave to attend professional conferences. Starting salary is $13,000-19,000, depending upon experience. Send resume and three letters of reference by December 1984 to J. Franklin Mowery, Head Conservator, Folger Shakespeare Library, 201 East Capitol St. SE, Washington, DC 20003 (202/544-4600 ext. 232).
PRESERVATION LIBRARIAN
Southern Illinois University at Carbondale, Morris Lib.
Responsible for all preservation and conservation activities for a university research library of 1.8 million volumes and additional special collections. Recommends preservation policies library-wide; serves as liaison with department heads and subject specialists; supervises 9 FTC personnel in bindery preparation, shelf preparation, and in-house conservation treatment; and implements the library's brittle book replacement program. During the grant period, serves as Project Director of the Midwest Cooperative Program, a project funded by NEH to assist libraries in preservation program development.
Required qualifications: A MLS from an ALA accredited program; in-depth knowledge of library preservation problems and solutions; advanced training/experience in preservation; and managerial experience. Preferred qualifications: A specialist's degree in library preservation or a compatible second master's degree; the ability to communicate effectively as demonstrated by a record of publication and presentation; and experience in grantsmanship.
Salary of $20,000 and up based upon education and experience. Faculty rank, tenure track appointment. University retirement and insurance benefits, 25 vacation days, 11 holidays.
Position available December 1, 1984. Application deadline: November 1, 1984. Apply to Don F. Wood, Chairperson, Preservation Librarian Search Committee, Serials Department, Norris Library, Southern Illinois University at Carbondale, Carbondale, IL 82901. The University is an Equal Opportunity, Affirmative Action Employer.
CONSERVATION OFFICER
Cornell University Libraries
The Cornell University Libraries seeks candidates for the position of Conservation Officer. The Officer will have primary responsibility for the continued development and administration of comprehensive plans, policies, and procedures for the conservation of the collections of a 15-library system with five million volumes, three million units of microforms and 30,000 cubic feet of manuscripts.
Duties: Initial duties will include the coordination of collection maintenance, conservation treatment, and material preparation activities. The Conservation Officer shall evaluate and make recommendations concerning the physical state of the collections and the environmental and security conditions within the Libraries. The Officer shall set standards for commercial binding, reprography, routine maintenance and mending, book marking, conservation treatments, and conservationally sound exhibit practices. The Conservation Officer will develop procedures to implement the aforementioned standards, train staff in these procedures and, where appropriate, supervise their implementation. Other duties shall include conservation budget planning and serving as a resource on conservation activities throughout the system including advising of the physical restoration of diverse types of library materials, continuing the development of security and disaster prevention plans, updating existing standards for new library construction, and developing a conservation education program for users and staff.
Future responsibilities include the design and administration of a projected conservation binding and reprographic facility.
The Conservation Officer will report to the Librarian for Collection Development and Management and will be advised by the Libraries Conservation Committee and the Committee on Safety, Emergencies and Disasters.
Qualifications: Graduate training in library conservation and substantial experience in a similarly senior position essential. Applicants should have demonstrable proficiency in conservation planning and grant writing. Training and hands-on experience in binding and other library
restoration procedures are also requisite, as is supervisory experience. Candidates shall exhibit in-depth knowledge of the current issues and concerns in library conservation.
Salary: Commensurate with experience.
Application information: Closing date: Nov. 1, 1984.
Available date: Immediately. Apply to Carolyn A. Pyhtila, Personnel Director, 235 Olin Library, Cornell University, Ithaca, NY 148S3.
HISTORICAL DOCUMENTS CONSERVATOR
Illinois State Historical Library
A conservator trained in all phases of paper and book conservation is sought to develop a comprehensive conservation/preservation program. Duties will include responsibility for commercial and in-house binding; encapsulation and deacidification of paper materials; supervision of preservation microfilming; preparation and maintenance of a disaster preparedness plan; and other duties generally related to conservation/preservation. Qualifications preferred include an MLS (or equivalent), advanced organic chemistry, and two years' experience in a conservation/ preservation program. Salary $17,340.
Apply in writing to Roger D. Bridges, Head, Library Services, Illinois State Historical Library, Old State Capitol, Springfield, Illinois 62706.
CONSERVATION TECHNICIAN
Illinois State Historical Library
A conservation technician with experience in paper and book conservation to assist Historical Documents Conservator. Duties will include repair, deacidification, and encapsulation of documents; construction of solander and phase boxes; repair and reconstruction of books, etc. Qualifications preferred include a BA with significant work in chemistry, organic chemistry, and art history, one year's experience or internship in book and paper conservation, and knowledge of library materials. Salary $15,408.
Apply to above address. An equal opportunity/affirmative action employer.