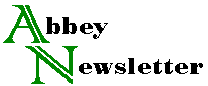 Volume 8, Number 5
Oct 1984
Carolyn Horton Retires
Carolyn Horton, a pioneer and leader in book conservation in the United States, is retiring this year after a career of more than 50 years.
She studied at the School for Applied Art in Vienna in 1929 and 1930 and returned to the States to serve a five-year apprenticeship with Albert Oldach in Philadelphia in bookbinding. Oldach was a prominent binder of the time and knowledgeable about conservation.
Ms. Horton became the first conservator of an American library in 1935, when she went to work for four years for the American Philosophical Society in Philadelphia. She also did private work in her own studio from 1933 onward.
In 1939, when her husband received a scholarship to Yale, she moved her shop to New Haven and became the Yale conservator. Subsequent moves (to Chicago, 1947; to Mew York, 1958) were dictated by her husband's career. In 1966, after the Florence Flood, she was among the group of conservators sent to Italy by the Committee to Rescue Italian Art (CRIA), and made a total of three trips.
Ms. Horton is the author of "Saving the Libraries of Florence, "Wilson Lib. Bull., June 1967; Cleaning and Preserving Bindings and Related Materials, ALA 1969; and the article on Bookbinding for the Encyclopedia Americana, 1968 edition.
The Guild of Book Workers Newsletter reprinted the following letter from her, dated July 23, 1984.
Dear Friends and Clients:

After many years in the field of book and art conservation I have decided to retire and close my studio.

It is a source of satisfaction to me that the high standards of quality that I have tried to establish in the book and art restoration field are being maintained by the many assistants I have helped to train. They are now employed in libraries and museums in Europe, Canada and the United States, or have established their own studios. I take this opportunity to thank them, and also my many valued clients and colleagues, for helping to make my career as a conservator happy and productive.

When I close my studio some of my present associates, equally talented and dedicated, will be available either for new employment or continuing work in their fields. I recommend them all very highly.

Mrs. Margot H. Gerson, 420W. 24th St., Mew York, NY 10011, Executive Associate

Ms. Linda Richmond, 128 W. 75th St., Mew York, MY 10025, Secretary/Typist

Ms. Mariol Gallichio, 323 W. 101st St., New York, NY 10025, Conservator of Art on Paper, Vellum, Documents

Mrs. Elaine Schlefer, 4 E. 89th St., New York, NY 10128, Bookbinder & Restorer [at New York Public Library]

Mrs. Susan B. Martin, 225 W. 71st St. #74, New York, NY 10023, Bookbinder and Restorer

Mrs. Jane Bultman, RD 114, Box 486, Newton, NJ 07860, Bookbinder and Restorer

Ms. Nelly Balloffet, Paper Star Bindery, 259 Illington Rd., Ossining, NY 10562, Bookbinder, Conservator

Ursula Hofer, Louise Kuflik, Leah Maneaty, Sky Meadow Bindery, 20 Sky Meadow Rd., Suffern, NY 10901, Fine Binders and Restorers

Mrs. Ethel Croskey, 291 Edgecombe Ave., #4A, New York, NY 10031, Housekeeper & Cook