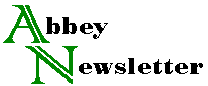 Volume 8, Number 2
Apr 1984
NHPRC Grants for '84
The National Historical Publications and Records Commission met in October and awarded over $1 million in records grants. Twenty percent of these had a preservation component. They went to:
Paulist Fathers Archives, New York, NY: up to $1,500 for a consultant to review the overall functions of the Archives, giving particular attention to the adequacy of finding aids, conservation measures, and physical facilities.
Smith College, Northampton, Massachusetts: $2,150 for a photograph consultant to advise on preservation, arrangement, description, and future accessions for 4,000 photographs in the Sophia Smith Collection and 8,000 photographs in the Smith College Archives.
St. Louis County Historical Society, Duluth, Minnesota: up to $3,082 for two photograph consultants to advise on improved preservation and availability of the Society's collection of 40,000 photographs.
Wright State University, Dayton, Ohio: $9,836 to preserve and make available photographs dated 1898 to 1935, depicting the Miami Conservancy District.
Eleutherian Mills-Hagley Foundation, Greenville, Delaware: a conditional grant of $168,792 to support a major appraisal effort that will result in the identification and preservation of the historical records of the Pennsylvania Railroad.
George Mason University, Fairfax, Virginia: a matching grant of $15,425 to produce preservation and reference microforms of nitrate negatives in the Federal Theatre Project collection.
University of Pennsylvania Museum, Philadelphia: $19,700 to produce a manual for anthropologists and archaeologists on the creation, care, and storage of field records to ensure archival permanence.
Northeast Document Conservation Center, Andover, Massachusetts: a matching grant of $27,220 to produce an administrator's guide to preservation microfilming.