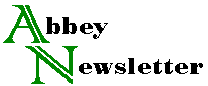 Volume 7, Number 4
Sep 1983
People
Mimi Batchelder is the fourth Mellon fellow at NEDCC.
Joseph Newman and Mary Wooten are new staff book conservators at NEDCC.
Linda Blaser, former book conservator at the Library of Congress, returned to LC on a temporary reappointment this summer.
Karen Garlick, book conservator at the Folger Library, is interning in paper conservation at the Library of Congress.
Nina Rayer, newly certified paper conservator, has joined the staff at the Rocky Mountain Regional Conservation Center.
Robert Chalfant and Gail Harriman, Class of '84 in the Conservator Program at Columbia University, are both interning at the Library of Congress this winter.
Marian Peck Dirda, paper conservator at the Library of Congress, was recently certified in paper conservation.
Merry White-Zeigler has changed her name to Merry White and has a new title at her old place of work: Associate Conservator, Marriott Library, Salt Lake City.
Norman J. Shaffer, former head of the LC Preservation Office and now chief of the Photoduplication Service, spoke on June 11 to the U.S. Philatelic Classics Society on the history of paper and preservation of postage stamps.