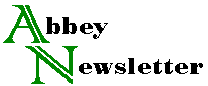 Volume 7, Number 2
May 1983
Positions Open
The New York Education Department advertised for a historic conservation technician (two, actually) in March. Qualifications: "at least one year of conservation-related work under direction of a professional in archives." $12,530-$l5,704. Deadline for application is past.
NEDCC has found the applicants it needed for the advanced internship in paper conservation it advertised in February. A three-year graduate training program or the equivalent was required. But they are apparently still looking for the conservation binder they advertised for in the December Abbey Newsletter.
The National Archives had several openings for paper conservators at different levels in March and may not have filled all of them yet. Call Ms. Veeda O'Connor (202) 523-5264 or 523-3016.
CONSERVATION SPECIALIST
Nebraska State Historical Society
Responsible for the administration of the paper conservation program at the Nebraska State Historical Society, including applied conservation work; setting treatment standards and priorities; supervision of one or more assistants; training and education of staff; monitoring of environmental and storage conditions in storage and work areas; preparation of reports and proposals; and participation in educational and outreach programs as workload and resources permit.
Qualifications: Bachelor's degree, social sciences preferred, plus some graduate training in paper conservation work or equivalent experience in a recognized library or archival conservation program.
Salary: $17,000-$8,000. Classification: Manuscripts curator. Send résumé and addresses of three references to James E, Potter, State Archivist, Nebraska State Historical Society, Box 82554, Lincoln, NE 68501. (402) 471-3270.
Application deadline: August 1st, 1983.