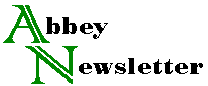 Volume 7, Number 1
Mar 1983
People
Robert Organ retired as Director of the Smithsonian's Conservation Analytical Laboratory on January 31. Alan Postlethwaite is the new deputy director.
Lynette VanWagoner, formerly on the Architectural Drawings of the Capitol Project, is now working as a Rare Book Conservator at the Library of Congress.
Jesse Mono is back in the United States after a year of study in book conservation at Trinity College Library in Dublin and a tour of European book labs.
Frank Mowery of the Folger Library in Washington, DC, has finished building a new vacuum suction table for the Folger. At the GBW Standards Seminar last April, he gave an informal demonstration of the leafcaster he had recently built.
Keiko Mizushima Keyes is a new fellow of the International Institute for Conservation.
Carolyn Harris, one of the 12 librarians at the 1978 Columbia Conservation Institute, was one of 15 chosen for the Association of Research Libraries' consultant training program, from a field of 122. Ms. Harris is the head of the Preservation Department at Columbia University.
Sheba A. Haner has been appointed as the first intern in the library conservation program of the American Antiquarian Society, under Richard C. Baker, Chief Conservator. The internship is funded by The Pew Memorial Trust of Philadelphia, and provides for 14 months of advanced training. Mrs. Haner received training in paper conservation at the Intermuseum Conservation Association in Oberlin, Ohio.
Hugo Peller made a lightning visit to the United States recently, stopping in four cities. He hopes to return for a longer stay one day.
Wes Boomgarden, a graduate of the Preservation Administration program at Columbia University, is the new Head of Preservation Microfilming at the New York Public Library.