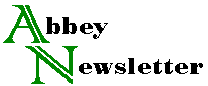 Volume 6, Number 5
Oct 1982
Bob Lucas's M.A.S.H. Program
A four-semester, four-course book restoration program leading to a certificate opened its first classes last winter at San Francisco State University. The program's official title is "Book Restoration Program," but originator Bob Lucas has a catchier name for it:
"Project M.A.S.H." M.A.S.H., in this case, stands for Mobile Archival Surgical Hospital. The "mobile" part of it refers to Mr. Lucas's portable binding machines or Framepresses, which can be moved anywhere for teaching purposes. Each student has one of the machines, which serves as a lying press, standing press, sewing frame, and (with a blade attached) as a paper or board cutter. Each machine has a foot pedal connected to an air compressor which opens and closes the press. The air compressor sits in the classroom, and is very well-behaved, reportedly giving good pressure to everyone and not generating excessive noise.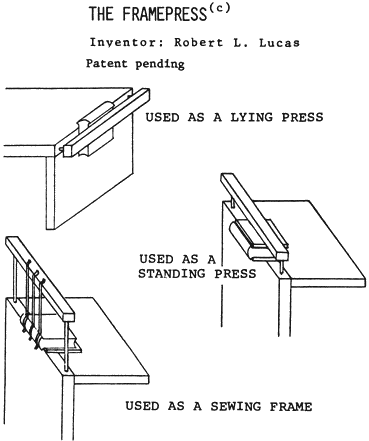 The surgical analogy is easy to see. According to Marcia Miner, a member of Project M.A.S.H., "Book restoration has many aspects that are similar to hospital work... i.e. some tools, some terms, and that all books regardless of their value should be given good care. Bob often says the original M.A.S.H. units treated all patients regardless of rank."
The program is currently administered by the Department of Extended Education at SFSU For the spring semester, a total of 51 students were enrolled in three beginning daytime and evening classes. There are 45 hours of instruction, for three units of credit, each semester; the cost is $150 plus a lab fee of $8. Currently the structure and content of the program is as follows:
Beginning course. Basic structures and physical and chemical laws associated with 20th century books. Fundamental restoration practices.
Intermediate course. Restoration methods and diagnosis. (This is the Fall 1982 course.)
Advanced course. The history of books and restoration--a key to restorative practices.
Advanced course. Restoration chemistry and decorative techniques.
Soon the program will be available as, part of the degree curriculum through the Department of Design and Industry. Inquiries may be sent to Dr. Robert C. Craig, Department Chairman, Department of Design and Industry, San Francisco State University, 1600 Holloway Ave., San Francisco, CA 94132.
The Framepress is available for purchase, though the price has not yet been set. For this, inquiries can be addressed to Bob Lucas at the same department.
There are five members of the Project M.A.S.H.: Kathleen O'Connell, archivist; Brendan Bouey, historian; Bob Lucas, Sandra Good and Marcia Miner, lecturers. The last three are the faculty members of SFSU who teach the Book Restoration courses.
Bob Lucas graduated from the University of Rochester with a major in physics and chemistry and taught inorganic chemistry in the Los. Angeles school system and at Mills College. He "apprenticed" with (Edna) Peter Fahey who co-authored Finishing in Hand Bookbinding, 1951. He did amateur work for about six years and has been doing professional restoration for ten years. His work can be seen at the San Francisco State University Library archives, and in many private collections.