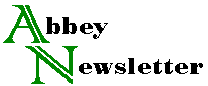 Volume 6, Number 2
Apr 1982
Supplies & Equipment & Services
Pyroxylin on the Way Out
Nearly all book cover materials in recent decades have been pyroxylin coated or impregnated to some degree, but there have been safety and supply problems in the manufacturing process, and a shift to a new type of coating based on acrylics seems inevitable. Already Joanna Western Mills have converted all their A, B and C cloths (the Arrestox line), and buckram grade F is in the process. They call the new stock "aqueous" rather than "acrylic" because it is not 100% acrylic, and the manufacturing process uses water instead of chemical solvents. (More on this subject in later issues.)
Samples of the new material can be obtained from Joanna Western Mills, 220 Broad Street, Kingsport, TN 37660, or from the Newsletter office, which has a big swatch of grey "Sunshine" finish buckram, grade F, from which pieces can be cut.
Book Measuring Devices for Library Binderies
There are two electronic gadgets now that can measure a book or a pile of periodical issues before binding and tell you how big to cut the cloth, where to start the stamping on the spine, how big to trim it, what size the boards should be, how big the spine flannel should be, and how wide the spine will be. All this is possible because of the routine nature of operations in a library bindery. One device is the Bookmark, available from the Flesher Corporation, 507 Jackson, P0 Box 976, Topeka, KS 66601 (913-354-7633). The other is an improved version of a model that has been in use since 1969; it was announced but not yet available last November. Contact Mekatronics, Inc./Bendror International, Inc., 85 Channel Drive, Port Washington, NY 11050 (516-883-6805).
Document Reprocessors, a Freeze-Drying Contractor
In November 1980, 1200 cubic feet of New Jersey state court records were soaked with water by firefighters. The archivist saw that they were placed in plastic milk carriers donated by a local dairy and moved to nearby Fort Dix for freezing. They are now being removed piecemeal for freeze-drying.
A California firm, Document Reprocessors of San Francisco, was hired with financial help from the Governor's office. They have set up in the Trenton Post Office Annex.
(From a Library Journal news item, December 15, 1981, as quoted in the Mid-Atlantic Archivist.)
Two More Salvage Services
Museum Services, Inc., a West Coast firm, advertises processing for damaged books and documents, including smoke and odor removal, document drying, mildew treatment, press and freeze drying and specialized fumigation care. Museum Services was called in for the Eastside Santa Barbara Library fire. Address: 434 South First St., San Jose, CA 95112 (408-249-2266).
Archival Conservation Center in Cincinnati offers a variety of services, including repairs and restoration, paper deacidification, treatment of flood and water damaged materials. Contact Arun Khot, 8225 Daly Road, Cincinnati, OH 45321 (513-521-9858).
Danish Leafcaster
Per N. Laursen, a book conservator in the Royal Library in Copenhagen, builds leafcasters in his spare time for conservation labs in his own and other countries. His model, based on the one used in Munich, has been described by Barclay Ogden and Don Etherington on their return from tours of European labs. It has been recently improved, and is now very compact. Purchasers have included the Danish Royal Library, the Royal Archives, the Norwegian government, a private conservator in Germany, and the Smithsonian Institution in Washington, D.C. The
Smithsonian had their new leafcaster set up by Mr. Laursen in the Library Conservation Lab just a few months ago. There were also four purchasers in Sweden.
The full price range is not known, but one model sells for $5,500. Contact Per N. Laursen, Teglgårdsvej 341 1 tv, DK-3O50 Humlebaek. Denmark.
Nuclear Testing for Roof Leaks
Consolidated Protective Coatings Corporation now provides a Nuclear Moisture Detection Service for analysis of problem areas on roofs, which pinpoints areas of leakage and energy loss. It measures level of concentration as well as the presence of moisture. Contact Consolidated Protective Coatings Corporation, Cleveland, OH 44114 (216- 771-3258).
Phase Boxes in Book Covers
The Library Bindery Co. of Pennsylvania (now a division of Information Conservation, Inc., since it merged with Joseph Ruzicka, the Baltimore library bindery) is offering the "Archival Pak," which is a basically L-shaped phase box with Velcro closures, glued onto the inside of the back cover of a buckram cover and stamped like a book so that it looks like a library bound book when it is on the shelf. They can be made either from the book or from measurements, and use alkaline buffered board. Contact Library Bindery Co. of Pennsylvania, Division of ICI, 935 Horsham Road, Horsham, PA 19044 (215-674-0486).
Portable Bookbinding Unit
The New Bookbinder had an article on bookbinding equipment that described a press and plough designed by Derek Beck of London, England, on a new principle. In his plough, the blade adjusts independently of the other parts and greater control is possible.
The Beck press and plough have been incorporated into Harden Ballantine's Multi-Purpose Bookbinding Press, which incorporates the functions of a sewing frame, lying press, nipping press, standing press and finishing press as well as a plough. Although it can accommodate an 18" book, it is small enough and light-weight enough to fit into one oversize canvas "shopping bag." Model I weighs 28 pounds and costs $470 plus shipping, and Model 2, which uses the same design but less expensive smaller parts, weighs 24 pounds and costs $399. Contact Mr. Ballantine at 202 N. Walnut St., Yellow Springs, OH 45387.
Electric Binding Apparatus
Cliff Wurfel reported in the November/December issue of Binders' Guild Newsletter that he was in San Francisco recently for an evening at the Book Club of California "where Robert Lucas demonstrated his new machine for binding and repair. He has contrived an electrically operated apparatus which serves as a lying press, a standing press, a sewing frame, and with a blade attached, as a paper or board cutter. He hopes to get it manufactured and distributed by Conservation Materials, Inc., Sparks, Nevada."
Schärf-Fix Source
The Schärf-Fix 80 (Quick-Skive), developed in Germany for bookbinders and leatherworkers, is available for $195, plus $2.50 for shipping, from Trudi Eberhardt, 942 Old Sumneytown Pike, Harleysville, PA 19438 (215-287-7919).
New Paring Machine
James Brockman is producing for sale a new, improved, paring machine based on the machine he has used for ten years. The machine is invaluable for small paring jobs and, with practice, will pare large areas, with final smoothing by hand. The price will probably be about £75.00.
For Sale By Owner
Ferne S. Siner would like to sell her late husband's bookbinding tools and equipment, which include 48 gouges, 4 stamps, a steel burnisher, small and large fillets, a Kwikprint, 11" x 15" press with 3½" daylight, lying press with 15" between screws, skiving knife, English paring knife, and a spokeshave. Prices have not been set yet. Contact her at Bond Adhesives Co., 301 Frelinghuysen Ave., Newark, NJ (201-243-8100) and make her an offer.
Catalogs
BookMakers (2025 Eye St., NW, Rm. 412, Washington, DC 2-0006, tel. 202-296-6613) has a handsome new illustrated catalog, which will be sent free upon request to "all bona fide bookbinders, amateur or professional, and institutions." BookMakers is a source of the Vaggelli (Florence) book presses and board shears; special cloths (Cialux, Canapetta, Oatmeal cloth, Airplane linen); and heat-set tissue, as well as the more ordinary supplies.
The Talas catalog is said to be at the printers.
Gane Brothers and Lane, major supplier for large binderies, has resumed publication of their catalog for the individual binder (see review this issue). Write to Game Brothers & Lane, Nail Order Catalog Division, 1400 Greenleaf Ave., Elk Grove Village, IL 60007 (312-437- 4880).
Acid-Free Glassine
Andrews/Nelson/Whitehead has a one-mil thick, acid- free glassine that can be used either for interleaving or for making up into simple envelopes and sleeves for documents and art works, and presumably also for photographs. It comes in 24" x 36" sheets. A/N/W, 31-10 48th Ave., Long Island City, NY 11101 (212-937-7100).
Aluminum Tooling Rack
Daniel Knowlton, who last April announced in this Newsletter his $18.00 finishing stove or "aluminum tooling rack," is still selling them and they still cost $18.00, plus postage. Contact Daniel G. Knowlton, Long- field Studios, 1202 Hope St., Bristol, RI 02809, (401- 253-64 60).
Supplies Available From Harcourt Bindery
The Harcourt Bindery has a new price list for leather, supplies and materials, which includes grained goat skiver at $4.50 per square foot, replacement blades for the Schärf-Fix skiving machine at $6.00 for 10, German vellum (sample swatches, $1.00), books on bookbinding (SASE for current list), limited varieties of Dutch linens (samples on request), and smaller first quality Sirocco Kid goatskins for $1.00 per square foot less than the usual price. (Harrold Leather Manufacturing Co., Ltd. announced in the April 1980 issue of AN that Sam Ellen- port would be their sole agent in the United States. At that time, Sirocco Kid was going for $9.50-11.00 per square foot, and their calf was $6.85-8.50 per square foot.)
A Caveat on Filmoplast
A short length of Filmoplast, applied over the word "Filmoplast" in the Editors Talas catalog sometime between 1975 and 1980, has already caused the printer's ink to blur and spread. This is a problem and a risk with all pressure-sensitive tapes, no matter how acid-free and stable they are. Another problem, even with tapes that age well without browning and becoming sticky, is that they may become very hard to remove in later years.