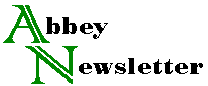 Volume 6, Number 2
Apr 1982
People
Richard Baker has been elected president of the Baltimore Area Conservation Group.
Jack Thompson has been named regent for conservation for the PPFA Guild, a professional, standards-setting organization, independent of but closely allied with the Professional Picture Framers Association.
Matt Roberts, binding officer in the Library of Congress's Preservation Office, will serve as LC's Liaison to the Library/Binders Relations Committee of ALA's Preservation of Library Materials Section.