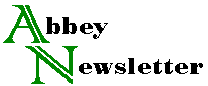 Volume 6, Number 1
Feb 1982
Burglary Case Still Open
Frank Buxton reports that there are no new developments in the November 6 burglary case reported on the front page of the December issue. Nothing has been recovered, and nobody has been arrested.
The bulletin and list of stolen items that he and his partner issued in December is reprinted below.
---
On November 6, 1981 The Bindery was burglarized by person or persons unknown. The nature of the crime indicates that the thieves knew exactly what to steal to set up a hand bindery and were apparently familiar with the location of those items within The Bindery itself. They would also have had to be strong and to have a van or truck, as the items stolen totalled some 750 pounds. Naturally we have suspects in mind and are proceeding with a full investigation both by the Los Angeles Police Department and by private investigators we have hired.

[Enclosed is] a condensed list of the missing items. We ask you, please, to be alert for any sign of these items being offered for sale or actually being used by a bookbinder, perhaps someone who has recently started a bindery. Every item is readily identifiable either by its markings or by photographs which we can provide. In the case of the hand tools, for instance, both the name and date of manufacture are stamped on the shafts. We also have stampings of the designs. Many of the stolen bindings are one of a kind and are signed. Most of the craft books are either signed or have notes written in them. We can identify everything!

Please retain this list and call us if you have any suspicions whatsoever. The items may take years to emerge but we will be available to recover them and to prosecute the criminals wherever and whenever this occurs.

Frank Buxton and Charles Ceilings
Condensed List of Items Stolen
8 volumes of books in state of disrepair; including first edition of Uncle Tom's Cabin, 2 volumes of Lewis and Clark Expeditions (1814) and English Pilot (l780) with- out boards and in repaired folios, among others.
10 to 15 volumes of hand-bound books and pamphlets, including Album Dedie a Tamara Karasavina with full leather designer-binding of Salome, two leather-bound designer-bindings of The Big Broadcast (one in green Oasis goat with lettering design and the other in brown
Oasis goat with blind and gold tooled "lion rampant" design bound upside down!), designer-binding of Chronology of Books and Printing in brown Oasis with original paper cover inset in new cover, traditional binding in red Oasis goat of The Renaissance by Walter Pater with gold and blind tooling, vellum calligraphy of Shaw quote in leather slipcase, Short Stories by J.D. Salinger in brown half-leather binding and slipcase, full leather green Oasis pull-apart box containing Cruikshank's Comic Almanac, etc.
15 to 20 volumes on the craft of bookbinding including Middleton (signed to Frank Buxton), Smith Burdett, Cockerell, Johnson, etc.
Approximately 300 hand tools including gouges, polishing irons, typeholders, fillets, rolls, burnishers, straight lines, curves, double straight lines, partial curves, etc. Many made by E. Klement, Leipzig, 1908 and others by a Brooklyn, NY firm circa 1903 and so stamped.
Handle letters - 4 Devon alphabets, 10, 14, 18 and 22 point sizes.
Russell Bookcrafts wooden plough and knife Iron letter press, blue-grey, 12" x 18" platen size Kwikprint Model #86 and ten drawers of type including Poliphilus, Goudy Open, Stymie, Goudy Bold, DeRoos Roman, Verona, miscellaneous design elements, dingbats, HOLY BIBLE type, spaces and sorts.
Approximately 45 Russell's Oasis Niger goatskins in various colors
Wooden sewing frame with brass keys
Wooden finishing press, relatively new
14 pressing boards, some with brass edges, 11" x 17"
Two sets of backing boards, one approximately 14", the other 8"
Approximately 30 Swedish marbled papers (Borjeson) and approximately 30 papers marbled at The Bindery with our stamp verso.
Various hand tools--knives, stab awl, 3 backing hammers, one pounding hammer, etc.
---
A list of about 35 of the books stolen, giving de tails about each, can be had either from the Newsletter office or from The Bindery, 7513 Melrose Ave., Los Angeles CA 90046 (213) 653-0071.
Buxton can be called at (213) 476-4067 and Collings at 463-8367. This is Los Angeles Police Department Case #DR 81 776 160, Detective Salenko, (213) 485-4321.