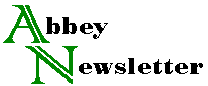 Volume 5, Number 6
Dec 1981
Supplies & Equipment & Services
Japanese Tissue
Timothy Barrett (Kalamazoo Handmade Papers) has 300 sheets of his "kozo tissue" for sale. These are seconds-- sheets with defects of one kind or another--but at least 60% of the full sheet area is still usable for small area mends. 100% hand beaten Japanese kozo fiber. Sheet size:
12" x 16". Technical notes detailing production steps accompany any order. Fifty or 100 sheet lots only; price $1.00 per sheet. Satisfaction guaranteed. Write Timothy Barrett, 5947 N. 25th St., Kalamazoo, MI 49004.
Cutter and Shears Wanted
Andrea Kartal (The Bookery, DeWitt Mall, Ithaca, NY 14850) writes that she is looking for a small guillotine (15" -20") and a board shears. She will pay for shipping to Ithaca from almost anywhere. Tel. (M-S): 607-273-5055.
Marbled Paper
Eileen Canning (Dancing Inks, Inc., 4224 Kyro Road SE, Olympia, WA 98503, tel. 206-456-6920) is selling her "quality watercolor marbling on fine papers" for custom or edition binding and invites special requests and collaborations. Samples and information $3.50.
Phase Boxes by Mail
Conservation Resources International has a system for making up phase boxes from the customer's measurements, which are recorded on a supplied form in sixteenths of an inch.
On the same piece of paper is a diagram that shows three views of a book, indicating the four measurements required for a normal volume and the five additional measurements for a distorted volume. The people at CRI say the customers are doing very well at measuring and the boxes fit "beautifully." One of their customers, a large library that used to make its own phase boxes, considers it cheaper to have them made commercially, even though the price per box is $5.00-$12.00!
The board used for these boxes cam be either grey-white box board, .052", buffered but containing some lignin; or their cream-colored "lig-free" board which runs about $2.50 more per box but has an esthetically pleasing appearance and feel.
"Lig-free" board is made to rigorous specifications which include the following:
The board shall be hard sized with chemically saturated organic compounds to a Cobb size test of not more than 100 grams per square meter (TAPPI test T-44, os-69).
pH range: The paperboard shall have a pH of not less than 8.5 nor more than 10.2.
Sizing: Alkaline sizing shall be used in place of alum-rosin sizing.
Alkaline reserve: The paperboard shall contain a minimum of 3% calcium carbonate (CaCO3).
M.I.T. folding endurance test: The .010 paperboard shall withstand a minimum of 1,000 double folds in the weakest direction at 1 kg. load, after conditioning according to TAPPI method T-109, os-49.
There are six other specifications in the set used by CRI, having to do with smoothness, resistance to abrasion, tear resistance, stiffness, bleeding and fading. Some of them require such sophisticated equipment to test that it would be hard to check up on the supplier's conformance to specs without access to a well-equipped laboratory, but on the other hand it may not be thought necessary to test every specification on every shipment.
This set of specifications is taken from a six-page "Federal Specification: Box, Paperboard, for Archival Microfiche" numbered PPP-B-2122, which was approved by the Commissioner, Federal Supply Service, General Services Administration, for the use of all Federal Agencies. The copy at hand bears no date. At the end it says, 'Preparing activity, National Archives and Records Service," but gives no other indication of who prepared it. Probably it was compiled for the National Archives' microfilm boxes; probably its use by other agencies is entirely optional.
At any rate, the board made for Conservation Resources International by these specifications is made in two basic thicknesses, .010" and .020", which are laminated as necessary to achieve thickness suitable for boxes, .040" and .060". For more information, write CRI, 1111 North Royal Street, Alexandria, VA 22314.
Steam Cleaning Book Spines
Old glue is usually removed from the spines of previously bound books by moistening with a damp sponge or a poultice of paste or methyl cellulose. The moisture softens the glue, which is then scraped off carefully so as not to damage the sewing or the folds of the signatures. If the glue resists softening, however, removing it may easily damage the spine, especially if the paper is deteriorated. Furthermore, if the spine has to stay moistened for a long time in order to soften some particularly hard glue, the moisture may penetrate to the pages and cause stains and tidelines in the gutter.
These difficulties are more easily avoided if a hand-held steamer is used. It softens the glue more easily, even modern hot-melts, -and speeds the work with less damage to the book. The Newberry Library uses one in its bindery, and Anthony Cams makes favorable mention of steaming in his article, "General Instructions and Observations on the Repair of Early Printed Books," Paper Conservator 1: 6-8, 1976.
One make of steamer is manufactured by Jiffy Steamer Company, Box 869, Rt. 3, Union City, TN 38261 (tel. 901-885-6690). The models they suggested for use with books are # J-l (standard hat steamer) for $107; J-2 (light duty clothing steamer) for $149; and J-3 (heavy duty deluxe clothing and upholstery steamer, like those found in laundromats) for $208, plus UPS freight.