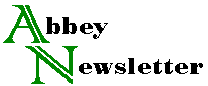 Volume 5, Number 4
Oct 1981
Supplies & Equipment
All information for the classified column and all notices, catalogs, and samples of supplies and equipment should be sent to Paul James, the Newsletter's Associate Editor for Supplies and Equipment. His address is: P.O. Box 3330, Alexandria, VA 22302 (tel. 703-370-0133).
The M.W. Engraving Company moved to the United States from England in late summer (ANL, January 1981, p. 11). Their address is: Lot 8-A, Whitesel Road, Hanover Industrial Air Park, Hanover County, VA 23005 (tel. 804-798- 7434, temporarily, evenings and weekends).
Christopher Clarkson of the Bodleian Library, Oxford, England, has drawn up specifications for rare book boxes, and Cundell Coutts Ltd. of London is offering to the public a wide range of boxes made to those specifications. The June issue of Paper Conservation News gives the specifications, which include the following:
The board must be lignin-free

A chemically stable starch-based adhesive must be used

The board must be lined on both sides with a buffered archival quality paper

It must have a pH value of between 7.0 and 8.5 by cold extraction

The boxes should be sent flat to save transport and storage costs

They should have a double thickness wall in the base part for extra strength and protection, particularly when boxes are placed horizontally on top of one another

Boxes should be of the drop spine variety [like the one-piece clamshell or traycase, or the two- piece drop side style sold by Pohlig, presumably], allowing easy access to contents

They should have spine flaps to add strength and dust protection at these points
For further information contact David Harris, Sales Director, Cundell Coutts Ltd., Violet Road, Bow, London E3 3QL, England (tel. 01-515 6171).
The Harcourt Bindery is preparing to coordinate another group order of book cloth from the Dutch manufacturer, Scholco. The minimum order will be 100 meters, and the deadline for ordering will be November 1. For further information, contact Sam Ellenport, Harcourt Bindery, 9-11 Harcourt St., Boston, MA 02116 (617-536-5755).
---
Paula Gourley, P.O. Box 924, Pebble Beach, CA 93953 (408-625-1759) is offering hand marbled papers produced in the manner of the 15th century Turks. Sample books of patterns are available for $5 postpaid, with custom services by request.
---
Lloyd Myers, Rt. 2, Box 100B, Purcellville, VA 22132 (703-338-2926) still has some duplicate pieces of equipment to sell, among them a 30" Hickok Backer ($425) and a small Kensol with a single-line lengthwise chase and 2 drawers of type, 12 and 18 Pt. ($300).
---
A notice in the Designer Bookbinders Newsletter for June says:
"Manfred Wildbrett of Augsburg offers whole skins of real calf or goat parchment suitable for bookbinding. The calf is available in natural or blood veiny, and the goat in natural or bleached. As a manufacturer he will also consider binder's individual specifications. Skins are priced in deutsche marks by the qdm (10 x 10 cm.). For samples, etc., write to him at the firm Carl Wildegrett, D-89O3 Bobingen 1 b. Augsburg, Waldstrasse 20, W. Germany."
The same issue gives a new address for G. W. Russell & James Garnar: 84/86 Borough High Street, London SEl 1LN, England (tel.! 01-403 5656), and notes that retail amounts of gold leaf £7.00/book of 25 3&frac14 x 3&frac14" leaves are available from a new supplier, C.J. Stonehouse and Sons, S Briar Avenue, Hollins Green (Near Warrington), Cheshire WA3 6JH, England (tel. 061-775 4087).
---
Faith Harrison has a new fall sample book of traditional patterns and colors of marbled papers and has added new marbling ink colors to her list of marbling supplies and equipment. Send a self-addressed, stamped envelope to Decorative Papers, P0 Box 281, Eastford, CT 06242 (203- 974-1185).