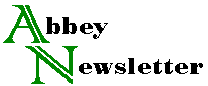 Volume 5, Number 3
Aug 1981
Editor's Page
Correction
Neither the February nor the April announcement in this Newsletter of Heinke Pensky-Adam's recent appointment was accurate. In order to clarify the situation, the following statement has been submitted by the President, Mrs. Rhoda H. Clark, together with Ms. Pensky-Adam.
Monastery Hill Bindery is one of the oldest, continuous hand bookbinding firms in America. From its beginnings in 1868, the firm has been solidly established in Chicago, Illinois. Since 1906, Ernst Hertzberg & Sons Monastery Hill Bindery has been located at 1751 West Belmont Ave., Chicago, Illinois, 60657.

In 1978 a formal conservation studio was built and established as a separate entity on the second floor of Monastery Hill Bindery, known as Studio Lariviere. During the first three years, book conservation and restoration was performed by John Lariviere, and paper conservation was performed by Janet Ruggles.

On January 3, 1981, Heinke Pensky-Adam, a fellow in the AIC, assumed responsibilities as Head of the Conservation Department which has been renamed Midwest Book and Paper Conservation c/o Monastery Hill Bindery.

Persons wishing to visit the facilities may do so by appointment with Heinke Pensky-Adam.
Change Your Address Records, Please
This is a reminder to readers to change the Abbey Newsletter's address and telephone number in all the places where they may have it recorded, e.g.:
The Rolodex
The finding list by the telephone
The little black book
The card file
The mailing list
The membership list
and so on. The address and telephone are:
716 Gormley Drive
Rockville, MD 20850
(301) 424-6175 (evenings and weekends)
The telephone company says they can not give out the mew number to people who have called the old one, after Sept. 27. And the fewer mail items the New Carrollton Post Office has to forward, the less likely they are to get mixed up and do it wrong. The old address was: 5410 85th Ave. #2, New Carrollton, MD 20784.
---
The Abbey Newsletter: Bookbinding and Conservation is issued 6 times a year by Ellen McCrady. New subscribers automatically receive all issues published in the current year, unless they request otherwise. All subscriptions expire on the last day of the year. To initiate or renew a subscription, send name, address, and a check for $12.00 ($15.00 for 1982) to Abbey Newsletter, 716 Gormley Drive, Rockville, MD 20850. Institutions may subscribe in their usual way, by going through a subscription agency or by sending a purchase order. Add $7.00 for foreign air mail.
Written contributions and bits of news are welcome. Claims for issues which are defective or damaged in the mail and for back issues paid for but never received will be honored without question within a reasonable period of time after issue. Write the above address or call (301) 424-6175 persistently, evenings and weekends.
Simple news articles and announcements may be freely reprinted in other newsletters without attribution and without explicit permission, according to established custom. Signed contributions, however, may not be reprinted without permission.
| | |
| --- | --- |
| Copyright 1981 Ellen McCrady | ISSN 0276-8291 |