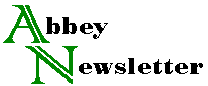 Volume 5, Number 1
Feb 1981
A Visit to British Binders & Binderies
Leah and Harold Wollenberg, bookbinders of San Francisco, described in a recent Newsletter of the Hand Bookbinders of California the visits they made in September to a number of binders and binderies in Britain. (Leah Wollenberg is the president of Hand Bookbinders of California; both she and her husband exhibited in the Eighth Annual HBC Exhibition last fall.) The following excerpt is reprinted with permission of the authors.
---
Elizabeth Greenhill has recently moved to a new location in a very nice flat in the Earls Court District of London. Her bindery is part of her living room occupying the window end looking out over a spacious block-square garden filled with flowers, lawn, and trees. She showed us some of her current work which was being readied for the upcoming Designer Bookbinders' Show.
We travelled about seventy miles west of London to Hungerford where Lady Fermoy met us and drove us to her Eddington Bindery. This is a most impressive establishment housed in a wing of the Fermoy manor house. Those who attended David Stevens's talk to the Hand Bookbinders will recall the slides he showed of this beautiful location, Stevens is no longer associated with the bindery. We met his successor, Bruce Plumney, and saw some fine work that he has produced. In addition to Plumney Lady Fermoy employs a young apprentice who appears to be making rapid strides in learning the art. The bindery is fully equipped to undertake all phases of binding and restoration.
A visit to Dorothy and Philip Smith filled a most enjoyable Saturday. They live in a charming part of Surrey about one hour by train south of London, in a house surrounded by a pleasant garden. Philip's bindery occupies a large part of the second floor of their home. We saw some of his latest work with a number of items indicating his interest in "sculptural" bindings. He has incorporated three-dimensional relief to his designs, so that the book becomes a free-standing piece. Those who saw his slip case for one of the Tolkien books during our International Exhibit will be able to visualize the effect.
An evening spent with Denise Lubbett was most enjoyable and to add to our pleasure our member Susan Wilson was with her. Denise's bindery is a spic and span space in her London flat. Denise and Susan both had new work to show us. All of it is up to the great standards set by their prior work, which we have all admired.
We visited Sally Lou Smith in her new quarters, which she is still in the process of organizing. Her previous location was involved in a fire in which much of her equipment and many books were lost. Fortunately she is a good carpenter as well as a fine binder, and is busy building shelves and tables for her workroom, which is on the upper floor of her London flat. We saw a group of ten small books that she has completed for the DB [Designer Bookbinders] show. These are ten of the sane book, each bound with a different design, all unmistakably in fine Sally Lou Smith style.
Two marvelous afternoons were spent in the Library at the British Museum. Mirjam Foot made it possible for us to examine and handle a large selection of their extensive binding collection. We had the thrill of studying, in hand, a great range of French and English bindings,
On another afternoon, through the kindness and interest of John Fuller, we had the sane opportunity at the Victoria and Albert Museum. Here we were able to study an immense variety of modern English bindings, with many of the Designer Bookbinders represented.
A trip to Maidstone in Kent to visit the Barcham Green paper mill was an exciting day. Simon Green, who spoke last year to the Hand Bookbinders, was a gracious host, and his partner Terry Franks a knowledgeable and interesting guide through the 300-year-old Hayle Mill. The setting for this operation in its little valley with mill pond and stream is a memorable one.
Some other highlights were a visit to the J. Paul Getty, Jr., Collection to see an unbelievable array of bindings both old and new, an enjoyable tour of Maggs' Bookstore with John Maggs as an enthusiastic guide, and a visit to the Scottish National Library in Edinburgh. Here a great Robert Louis Stevenson exhibit was in progress. One thrill at this show was to find in a single case many Stevenson items printed in the San Francisco area, There were two from the Allen Press, two from Joyce and Adrian Wilson, one from the Grace Hoper Press, one Grabhorn and one Colt. It seemed like old home week in Edinburgh.