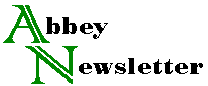 Volume 5, Number 1
Feb 1981
News
NCAC Seeks Conservation Data
The National Conservation Advisory Council (NCAC) is undertaking a study to quantify the conservation needs of museums, archives, libraries and historic buildings. In developing an approach to this task, NCAC is seeking information on past conservation surveys and collection condition reports.
If your institution has undertaken a survey which summarizes and quantifies the overall condition of your collection, NCAC would like to hear about it. Send a description of the survey and a summary of the results to:
Quantification Committee, National Conservation Advisory Council, A & I 2225, Smithsonian Institution, Washington, D.C. 20560 (tel. 202-357-2295).
NCAC Education and Training Committee
James Bernstein of the San Francisco Museum of Modern Art is now chairman of the National Conservation Advisory Council's Committee on Education and Training. He invites conservators to use this committee as a forum for the exchange of ideas on this important subject. The committee welcomes any "mews, activities or concerns" on education and training of professional conservators. (It is not clear how much attention the committee plans to give to the education of conservation scientists, administrators, consultants, educators, or technicians. At this stage, the committee is probably open to suggestion.)
One member of the committee is in the field of paper conservation:
Ms. Leslie Kruth
3760 Grand View Blvd.
Los Angeles, CA 90066
(213) 391-6618
The chairman's address is:
James Bernstein, Chairman
NCAC Education and Training Committee
c/o San Francisco Museum of Modern Art
Van Ness at McAllister
San Francisco, CA 94102 (415) 863-8800
285-9959 - Home
Coffee and Tea Surpassed As Paper Toners
Julian Clare and Frederick Marsh report in the most recent Paper Conservator that they have found a lightfast colorant for toning of repair papers: Dylon cold water dyes. These dyes were tested on three types of paper for fading and aging characteristics, using standard test methods which they describe in good detail in the article. The dyes were found not to increase the deterioration rate of the papers; they were markedly superior to tea, coffee, aniline brown and water-color tints in the retention of their tones. Testing continues, in order to learn the effect of use with different materials and conditions.
Actually, toning was only one detail in their 7-page article, which was entitled "A Dry Repair Method for Islamic Illuminated Manuscript Leaves." Other details include a description of how to prepare heat-set tissue using diluted Texicryl (an acrylic resin) and gampi tissue, and a description of a method for keeping mended pages from blocking (sticking together when the book is closed) by diluting the adhesive with magnesium bicarbonate solution.
The authors recommend wearing rubber gloves and protective clothing when working with the dye, which is manufactured by Dylon International Ltd., Worsley Bridge, London SE26.