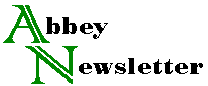 Volume 1, Number 2
Nov 1975
Academy Trading Post
We will print in this regular column at no charge) any entries that readers may send for insertion.
Machinery For Sale
Acme-Morrison stapler, electric, with foot pedal; mimeograph, as is; C&S Turning-in machine in good working order; industrial Singer in excellent condition, with speed reducer, can sew books 5/8" thick; print dryer, as is. All may be bought on approval from the Academy Book Bindery at prices from $5.00 to $400.00. Make offer.
Books For Sale
Antique Detroit newspapers, printed on good paper and in bound volumes, 1860-1900. Price negotiable. (313) 343-0481. Or write John Steininger, 530 Cadieux Road, Grosse Pointe, Michigan.
Recent bound volumes of Lancet and New England Journal of Medicine, $8.50 each. CalI the bindery.
Miscellaneous For Sale
"Junk" in boxes, from cleaning out the bindery storage area. Some good stuff. Make offer on individual items or the whole lot.
Surplus materials: black buckram, gossamer-like tissue paper, tough thin reinforcing paper from Process Materials Corp., acid-free colored paper. All for sale in small amounts at little more than we paid for it in our bulk orders.
Other Categories for which Classified Ads may be submitted: HELP WANTED, POSITIONS WANTED, EQUIPMENT WANTED, etc.