January 1998 Volume 20 Number 1
---
Regional News
Jill Sterrett, Column Editor
---
GREATER LOS ANGELES AND SANTA BARBARA
At LACMA, Susan Schmalz joined the textiles conservation lab last October for a one-year position as Mellon Fellow. Susan is a graduate of the conservation training program at the State University of New York at Buffalo and was previously an intern at Harper's Ferry.
Conservators Cara Varnell, Joe Fronek, Virginia Rasmussen, and curators Patrice Marandel and Dale Gluckman organized the exhibition, "Francois Boucher Rediscovered: The Conservation of Three Eighteenth-Century Works from the Permanent Collection". This small exhibition, which opened at LACMA last November, spotlights three recently restored works of art by Boucher: the large Bacchus and Ariadne tapestry, Royal Beauvais Manufactory, and two overdoor paintings from the Hotel de Mazarin in Paris. Elma O'Donoghue presented a talk on these Boucher overdoors at the 1996 AIC conference in Norfolk.
Last fall, Paintings Conservators at LACMA prepared approximately forty paintings for the exhibition, "Mexican Masterpieces from the Bernard and Edith Lewin Collection", which opened in November and runs through February 16th. The exhibition features paintings by Rufino Tamayo, Diego Rivera, Carlos Merida and David Alfaro Siqueiros and is part of a major collection of over 2,000 works which were given to LACMA by the Lewins. Beginning in January '98, Anamaria Ruegger Almeida Neves will join LACMA's paintings conservation lab as a visiting conservator from Brazil, with funds provided by the Lampadia Foundation. Anamaria is an assistant professor of conservation in Brazil at the Federal University of Minas Gerais.
In December, Steve Colton announced his departure from objects conservation at LACMA to go into private practice. We wish him good luck.
The paper conservation staff at LACMA is delighted to announce the arrival of our new Assistant Paper Conservator, Jane Smith. Jane is a graduate of the conservation training program at Queens University. She has worked at the Conservation Center for Art and Historic Artifacts in Philadelphia and as the project conservator on a major archive project in Harrisburg, Pennsylvania at the Historical and Museum Commission. Her experience has prepared her for the challenging schedule at LACMA and we look forward to her contributions to the lab and WAAC.
Narelle Jarry, Mellon Fellow, finished her fellowship in October. Before returning to her home in Australia, Narelle traveled around the Southwest pursuing her avocation, rock climbing. During her year at LACMA, Narelle worked on a large variety of art from Indian miniature paintings to Japanese woodblock prints. In her last major project she collaborated with Robert Aitchison in the treatment of a collection of photographs by commercial artist Ralph Bartholomew, Jr. We will miss Narelle very much-she was a great asset to the lab on many levels. The "Master Drawings in the Los Angeles County Museum of Art" kept Narelle and Victoria Blyth-Hill very busy, but Micol Hebron was the real hero of the show. Micol's French matts set-off our work beautifully and she managed to do it on her new part-time schedule. Micol has returned to UCLA as graduate student in the MFA program and is energetically juggling her art career to keep working with us.
In the next issue of The Paper Conservator, Terry Schaeffer, Victoria Blyth-Hill and Jim Druzik's article on "Aqueous Light Bleaching of Modern Rag Paper: An Effective Tool for Stain Removal" will be published. This article is a distillation of the research they have been doing over the last several years. Earlier articles have appeared in the JAIC.
Sharon Shore is heading a team of conservators, including John Griswold, Victoria Blyth Hill and Tanya Thompson, conducting a condition assessment survey of Judy Chicago's The Dinner Party. The work is being performed at the artist's studio in Belen, New Mexico, and is funded by the Getty Grant Program. Chris Stavroudis designed the Claris Filemaker Pro database used by the survey team.
Joanne Page is currently involved in the conservation treatment of 130 prints, drawings and watercolors belonging to the California Library Association's Gladys English Collection of Original Illustrations for Children's Books. Funding for this work comes from the Gary and Karen Winnick Foundation. Joanne is also expecting her first grandchild in January - congratulations!
The Sculpture Conservation Studio has two new interns, Amy Green and Hana Askren, and a new conservation technician, Caroline Sakaguchi. Caroline is applying to conservation programs and comes to The Sculpture Conservation Studio having already worked at the Fowler Museum and with Tatyana Thompson at Royce Hall. Donna Williams recently co-chaired a 2-day symposium in New York City on the work of sculptor, Donald Judd. The symposium, which was sponsored under the auspices of the Donald Judd Estate, was the first event to address the care and conservation of this most important minimalist sculptor. The proceedings included vibrant discussions by an international audience of sculpture conservators and fabricators. They will be published next year in a monograph to be co-edited by Donna. In addition to Donna, the panel of speakers also included Steve Colton. The September/October issue of Preservation Magazine featured a cover story on preservation of architecture in Cuba entitled, "Old Havana Revisited" written by Rosa Lowinger. Rosa expects to return to Cuba in January with Donna to help the Cuban Institute of Music address its termite problem.
Robert Aitchison and Mark Watters recently cooperated with LACMA on the treatment of three Diego Rivera works on paper from the Bernard and Edith Lewin Collection's gift to the museum for the "Mexican Masters" exhibition.
Tania Collas, Kress Postgraduate Conservation Intern, has started her internship at the UCLA Fowler Museum of Cultural History in the conservation laboratories. She makes the transition from working with archaeological collections in Turkey with the treatment of Yoruba beaded artifacts and the mounting of mola panels from the San Blas Islands for the upcoming Kuna exhibition. Lyssa Stapleton, an archaeology student, will spend six months in the lab acquiring an introduction to conservation.
Linda Clougherty and Andy Williams have returned from their vacations in Egypt and Italy to resume their positions as conservation technicians, participating in installation and interdepartmental projects such as condition reporting 200 political Che posters from Cuba and the semi-permanent labeling of museum objects with accession numbers.
Jo Hill continues her occasional presentations about conservation to various groups, such as the recent Careers 2000 KCET program (video-conferencing with five California high schools and colleges) and the upcoming American Assn. of University Women program for Palos Verdes High School district's young female students.
ConservArt Associates, Inc. has opened a second branch in Albuquerque, New Mexico. The new offices are located at: 2910B 4th St., N.W., Albuquerque, NM 87107, TEL: 505-345-4976. Dr. Duane Chartier spent two weeks in October and two weeks in November working on bronze outdoor sculptures for the Gilcrease Museum in Tulsa, Oklahoma. While in Oklahoma he also consulted for the Fred Jones, Jr. Museum of Art at the University of Oklahoma in Norman and continued on projects at the National Cowboy Hall of Fame in Oklahoma City. ConservArt is sorry to lose Melissa Santala after two years. She will be working in Austria with mural conservator Heinz Leitner for the next six months.
Much has been going on at the Getty Conservation Institute--the December issue of Conservation (the GCI Newsletter) briefly describes 22 new projects! If you are not on the mailing list, you can call the GCI for a copy (310) 440-7325. You can also check the GCI Web site for this and previous editions of the newsletter (http://www.getty.edu/gci). The GCI is involved in Emergency Response through the National Task Force (a collaboration of GCI, FEMA, NIC) and has had a recent success with the widespread distribution of the Emergency Response and Salvage Wheel. Jane Siena, Head of Institutional Relations, oversees this project.
Jackie Zak returned to London until March 1998 to continue her research on integrated information systems for archaeology and conservation at the Institute of Archaeology, University College London, under the guidance of Clive Orton and Elizabeth Pye.
Mitchell Hearns Bishop was elected to the WAAC Board as a member-at-large for a two year term. Cecily Grzywacz was re-elected as member-at-large for a one year term.
Dr. Lorraine Gibson, from the University of Strathclyde in Glasgow, Scotland, and Cecily Grzywacz conducted a 2 month project: "An Intercomparison of Passive Sampling Devices for Museum Environments". Samplers from the US, Scotland, England and The Netherlands were deployed at 6 Southern Californian museums. The compiled data will provide information on testing for indoor-generated air pollutants, specifically aldehydes, ketones, and low molecular weight organic acids.
Andrea Gailunas, an organic chemist and a new member of WAAC worked at GCI in the Air Pollution Analysis Lab. At the same time, Andrea volunteered in the Paper Conservation Lab of LACMA under the supervision of Victoria Blythe-Hill. Andrea cut her internships at LACMA and the GCI short to attend the Courtauld Institute of Art's Wall Painting Conservation Program.
Brian Considine, Jane Bassett, Joe Godla, Stefanie Griswold, Gordon Hanlon, Abby Hykin, George Johnson, Mark Mitton, Cynthia Moyer, Adrienne Pamp, and John Williams of the Decorative Arts and Sculpture Conservation Department of the J. Paul Getty Museum have been working overtime to prepare the collections and install the new galleries for the opening of the museum on December 15, 1997. Joe Godla attended the conference, "The Museum and the Period Room", at the Victoria and Albert museum in London. Jane Bassett has co-authored a book with Peggy Fogelman, Associate Curator of European Sculpture, Looking at Sculpture, A Guide to Technical Terms.
Cynthia Moyer is completing a four year contract in the lab where she has been conserving gilded wooden objects and paneled rooms. She is going into private practice specializing in gilding and finish conservation. Adrienne Pamp is completing a 3 year contract in mountmaking. John Williams is completing an extended internship in mountmaking. Stefanie Griswold, after finishing her third year conservation internship with the Buffalo program at the Decorative Arts and Sculpture Lab has continued part time to treat terra cotta sculptures, ormolu and silver objects for the opening exhibition. Frederic Rouchet was conserving stone sculpture during a summer internship from Institut Francais pour le Restoration des Oeuvres d'Art.
Roz Westmoreland has been providing additional support when she is not at the Norton-Simon Museum undertaking a technical examination of their Dutch Paintings. Sharon Shore has been conserving an Italian wall hanging. Diedre Windsor from the Museum of Textile History in Massachusetts has been conserving the tapestry collection. Gisele Haven has moved to Los Angeles from Boston where she had been doing work for the Isabella Stewart Gardner Museum. She is doing non-invasive upholstery techniques.
Paul Pihl has completed a one year pre-program internship at Wharton and Griswold Associates (WGA), and has returned to his home state of Washington. Paul presented a paper on Inuit soapstone carvings at the Phoenix WAAC meeting. Glenn Wharton recently participated as a speaker at a symposium on public art in Taiwan. Linnaea Dix, assistant Conservator at WGA, has performed an investigation into the historic materials and surfaces at the Warner Grand Theater in San Pedro for inclusion in an Historic Structures Report by Michalski and Michali Architects for the City of Los Angeles. John Griswold and Jonathan Taggart are collaborating on the conservation of the most significant Civil War Monument in Iowa: The Soldiers and Sailors Monument, a Trajanesque granite column featuring a large number of equestrian and foot soldiers, allegorical figures, and reliefs, all in bronze. The monument is located on the grounds of the State Capitol in Des Moines.
Some of the 32 large, outdoor cement mortar, surrealistic works created by British poet Edward James in Xilitla, Mexico are suffering damage due to the elements. The owner, Kaco Castelum, has contracted for the development of a conservation plan with Bud Goldstone, consulting engineer in charge of the Watts Towers conservation program since 1986. Bud and conservator Zuleyma Aguirre, will develop an Architect and Engineering report for Las Pozas, the name given to James' works. The works were said to have been built by a team of 40 workers over a 25 year period.
Bud is a new WAAC member though familiar from past meeting presentations and Newsletter contributions. He spent the Christmas holiday at Xilitla in the rain forest of Mexico inland from Tampico. He adds: We are looking for a conservation partner or two, fluent in Spanish, in good physical (and mental) health and willing to work in the outdoors in Mexico for a year or more-maybe five? Please call or FAX at (310) 568-1571 for more information.
From the membership column which doesn't usually appear online, a special welcome to the newest WAAC member from Los Angeles, born on Dec. 7. Welcome Calandra Marlena London Stavroudis, shown here with Mom. Congratulations Chris and Lark!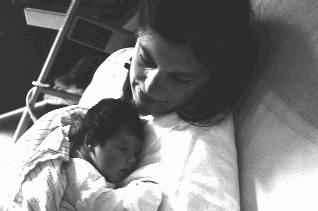 Regional Reporters:
Virginia Rasmussen
Conservation Center
Los Angeles County Museum of Art
5905 Wilshire Blvd.
Los Angeles, CA 90036
(213) 857-6168
John Griswold
Wharton and Griswold Associates
549 Hot Springs Road
Santa Barbara, CA 93108
(805) 565-3639
ROCKY MOUNTAIN REGION
Victoria Montana Ryan spoke at the October CWAM/AASLH conference in Denver. Her topic was Winterizing Historic Houses. She was also one of a select group who had the privilege to attend a September conference sponsored by the Conservation Analytical Laboratory/Smithsonian on "The Preservation of Imagenes-Hispanic American Religious Images on Wood". Teodoro Vidal, who recently donated an outstanding collection of colonial art from Puerto Rico to the Smithsonian, was a featured speaker.
Victoria recently completed a CAP survey for the Black American Museum and Heritage Center. She will be participating in the National Institute for Conservation CAP workshop to be held at the Molly Brown House, along with Jude Southward, Denver Museum of Natural History Conservator, and Charlie Hudson and Kathleen Hoeft, Architectural Assessors.
Matt Crawford gave an AIC-sponsored presentation at the MPMA conference in Missoula, Montana in October. The topic was, "Preserving Cultures: The Best Way to Care For an Exhibit of Native-Made Objects".
Teresa Knutson, Rocky Mountain Conservation Center Textile Conservator, spoke on conservation to a group of lace makers and other interested parties at a Lace Retreat held at the Oxford Hotel in September. The meeting was sponsored by the lace makers supplier, Beggar's Lace, and the world tour organizer for lace makers, Point Ground.
Eileen Clancy has been busy with several National Park Survey projects, including work at Little Bighorn Battlefields, Grant-Kohrs Ranch in Montana and Fort Laramie in Wyoming. Eileen was a speaker at the American Association of State and Local History Conference in Denver.
Carmen Bria and Camilla Van Vooren of the Western Center for the Conservation of Fine Arts (WCCFA) had the opportunity to treat two large (99" x 171") Allen True Murals at South High School in Denver. South High School was built in the 1920s and has an historic structure designation. The project was funded with a grant from the Historic Preservation Fund administered by the Colorado Historical Society.
John Kjelland will be studying Protective and Decorative Coatings at the Smithsonian's Conservation Analytical Lab this winter.
Regional reporter:
Diane Danielson
Rocky Mountain Regional Con. Center
2420 South University Blvd.
Denver, CO 80208
(303) 733-2712
TEXAS
Cheryl Carrabba and staff at Carrabba Conservation, Inc. in Austin, Texas prepared exhibition materials for Texas A & M University to celebrate the opening of the George Bush Presidential Library which took place on November 6, 1997 in College Station, Texas.
Greg Thomas and Helen Houp, Perry Huston Associates gave a lecture to the Dallas Art Visual Community of Artists on "Caring for Your Art Work". Helen conducted an on-site survey at the Friends University in Witchita, Kansas, assessing condition, storage and exhibits needs. Greg completed an on-site treatment of a fresco mural in De Ridder, Louisiana.
Olivia Primanis, Senior Conservator at the Harry Ransom Humanities Research Center, University of Texas, recently co-curated an exhibit entitled, "Modern American Book Arts at the Ransom Center."
The new class started this fall in the Preservation and Conservation Studies (PCS) Program of the Graduate School of Library Information at the University of Texas. The students are: Eliza Gilligan, Washington, DC; Jennifer Hain, Austin, TX; Kazuko Hioki, Sakai City, Osaka, Japan; Tara Kennedy, Southington, CT; Christine McCarthy, Providence, RI; and Jennifer Sainato, Pittsburgh, PA.
Six students from the PCS Program will begin their seven-month internships in January 1998: Alexandra Botelh at the American Museum of Natural History; Heather Caldwell at the Widener Library, Harvard University; Liz Dube at the University of Iowa; Tina Mason at the Smithsonian Institution Libraries; and Holly Moore at the Huntington Library. Laura Larkin will begin an internship at the University of Iowa in September 1998.
The Austin Bookworkers Association had a recent workshop and lecture on Japanese Bookbinding. Sam Lanham, former professor at Schreiner College in Fredericksburg, TX, conducted a workshop in which participants made a Japanese-style binding. Cathy Atwood, of the Missouri Local Records Program, gave a lecture on the history and techniques of Japanese bookbinding.
Jill Whitten and Rob Proctor were recently in Austin working, with Sara McElroy, at the Archer M. Huntington Art Gallery of the University of Texas working on a 17th century Dutch Painting in the collection. Sara is also teaching an Introduction to Conservation course to an Advanced Placement high school class and a University of Texas Art Department class that is exploring careers using an art degree.
Martha Simpson Grant has started work on a year-long, part-time contract for the conservation of ten Neo-classical mercury/tin amalgam looking glasses in the collection of Bayou Bend/Museum of Fine Arts, Houston. The work is taking place in the Museum's Conservation Lab under the direction of Steve Pine, Decorative Arts Conservator. The project was funded by the Institute of Museum and Library Services.
In September, Jessica Johnson left the Materials Conservation Lab at the Texas Memorial Museum to start a position as Conservator with the Museum Management program of the National Park Service in Washington, DC.
Regional reporter:
Martha Simpson Grant
Objects Conservator
5201 Avenue H
Austin, TX 78751
(512) 371-9387
msgrant@swbell.net
PACIFIC NORTHWEST
After completing an inventory and preservation project for bells and decorative well heads in Venice, Italy, Jonathan Taggart returned to Seattle where he is stabilizing the Totem Pole in Pioneer Square. He also continues on-going work in Portland, Oregon and Kansas City, Missouri, as well as advising the City of Dallas, Texas on the conservation of the monumental exterior plaster "Spirit of the Centennial" in Fair Park.
Portland Paper Conservator Jack Thompson spent this spring working in The Dalles, cleaning artifacts to go into the new Columbia Gorge Interpretive Center/Wasco County Museum and conducted a CAP survey of the Westport Maritime Museum, Westport, Washington. Additionally, he purchased property in Idaho and has begun designing another water powered paper mill to be built on the site. The new mill will have an 8-12 ft. diameter overshot wheel operating a nine-hammer mill. He also conducted the tenth Technology of the Medieval Book workshop in Idaho (Gary Frost wrote a review of the workshop which can be accessed through http://BookLab.com). No workshop is scheduled for next summer as he expects to be building the new mill then.
For Claire Dean, the summer has been as busy as ever with field work. She has been dealing with rock art in Montana, Colorado and Minnesota. She just completed the first rock art condition assessment of some sites within the nation's newest National Monument, Grand Staircase - Escalante Nat'l Monument, Utah. Other than the rock art she has been working on an 11,800 year old painted bison skull and advising on the conservation of some archeological material excavated in Oregon. As a recent recipient of a NCPTT publication grant, Claire will be spending a good part of the winter writing a review article on rock art literature.
Conservator Diana Dicus has relocated to Boise, Idaho after two years with the Conservation Institute in Ottawa, one and a half years of which were spent in Detroit on a mold recovery project. With the conclusion of the Detroit on-site, she did a survey of the Big Hole National Battlefield, Wisdom, MT and a survey for the Tate Geological Museum at Casper College, Casper, WY. She is now beginning treatments at her Boise studio and looks forward to being in touch with conservators in the Pacific Northwest.
Barbara Engstrom of Northshore Art Conservation traveled to Anchorage, Alaska in September to work on a painting by well known regional artist, Eustace Ziegler. The 4' x 8 1/2' painting required cleaning and restretching. It is part of the Atwood collection which will be included in a traveling show of Ziegler's work.
Patti Favero has been hired as a new conservation technician at Alice Bear Conservation of Works of Art on Paper. Vicki Parry has begun her conservation graduate work at the Institute of Archeology, University of London. Alice Bear has finished a two month project with the State of Washington surveying the Mural Art Collection at Washington State Capitol Museum.
The staff at Conservation Associates of the Pacific Northwest (CAPNW) in Olympia, WA has been conducting workshops on preservation issues relating to specific materials types. In addition to this activity, CAPNW continues to offer referrals to people and agencies needing preservation expertise for their cultural materials. They are also under contract with the Washington State Archives to manage the State's conservation labs located in the regional Archival repositories.
The Lynden Pioneer Museum has received a grant for $6000 from IMLS for the formation of a conservation plan based on a survey of the museum. For more information, contact Renee Schwarzmiller, Collections Manager (360) 354-3675.
The Cheney Cowles Museum, Spokane, WA and the Washington chapter of the Registrars Committee of the Western Region collaborated to bring conservator Helen Alten, of the Northern States Conservation Center, to Spokane and Seattle for collections care workshops in October. The workshops included the basics of collections care, artifact numbering, and a survey of materials for storage and exhibition. 92 people attended the Spokane workshop at the Cheney Cowles Museum, and 42 attended the Seattle workshop at the Nordic Heritage Museum. Helen also conducted a board, staff and architects facility planning workshop which doubled as the in-house kickoff of the design phase of the Cheney Cowles expansion project due to begin early next year.
Mountmaker Jamie Hascall has just finished work on a 1-1/2 year permanent exhibits renovation at the Burke Museum of Natural History and Culture in Seattle, and now heads to the Seattle Art Museum to work on mounts for the new traveling exhibition, "Native Visions" showcasing Seattle's private collections of Native American Art; as well as installation of the traveling show of Yu'pik masks from the Anchorage museum. He is looking for new mountmaking projects in the Northwest.
Regional reporter:
Jamie Hascall
Hascall Museum Services
2335 N. 61st
Seattle, WA 98103
jhascall@accessone.com
(206) 525-6941
BRITISH COLUMBIA
Cynthia Cripps completed a contract designing and manufacturing Plexiglas exhibit mounts this August for the Museum of Northern British Columbia in Prince Rupert, B.C. The exhibit is to be a permanent display of textiles and wood carvings of local First Nations origin. Currently, she is working on contract at the Vancouver Museum treating objects to be included in their new gallery.
Murray Frost was an invitee to the CAL/NCPTT symposium/colloquium, "Towards New Guidelines for Collections Environments" held in Washington D.C. last September. He has continued to review building plans and documents for projects in England, the Philippines, and Singapore.
Regional reporter:
Cynthia Cripps
3149 W. King Edward Ave.
Vancouver, B.C. V6L 1V4
Canada
SAN DIEGO
Will Chandler reports a further acknowledgement in connection with the reconstruction of the House of Hospitality in Balboa Park. Donna Williams, of Rosa Lowinger et. al, Sculpture Conservation Studio, was responsible for the conservation and consolidation of historic tiles, as well as the stabilization of Donald Hord's sculpture "Women of Tehuantepec". Donna was assisted by John Garrett.
Regional reporter:
Frances Pritchett
5235 35th Street
San Diego, CA 92116
(619) 283-0368
SAN FRANCISCO BAY AREA
Former Paintings Intern at the Fine Arts Museums of San Francisco Brad Epley (now at the the Hamilton Kerr Institute in Cambridge), and his wife, Susan, welcomed Ethan Daniel Epley into the world on September 26, 1997. All are doing well and enjoying England.
Paper conservators at the Fine Arts Museums of San Francisco are pleased to welcome Margot Healey, who will be in the lab on her 3rd year internship from the Buffalo Art Conservation training program. The Lab's new pre-program intern is Martin Salazar, a chemical engineer presently enrolled in a studio art degree at San Francisco State University. Carolyn Murphy, a Getty Fellow at the lab for one year, recently departed for her home in Australia and a new job as paper conservator at the Queensland Art Gallery. Before she left, Carolyn and Debra Evans conducted a general conservation survey at the Nevada Historical Society.
Pauline Mohr took a leave of absence from the WRPCL to work with Karen Zukor at Zukor Art Conservation for six weeks. She also continued, for November through December, to work with Jim Bernstein in paintings one day a week. Dirk Schnbon, a student at the Staatliche Akademe der Bildenden, Stuttgart, worked with Karen for the month of October. Dirk will be graduating in June 1998.
At SFMOMA, Heida Shoemaker, Will Shank, and Sarah Grew prepared recently acquired works by Joseph Cornell for exhibition. The Cornell Foundation gave 21 works by Cornell, which are the core of the exhibition. Neil Cockerline taught a seminar, "Making Art that Will Last: Sound Studio Techniques for Artists", at City College of San Francisco in November. Dawne Steele Pullman, Conservation Fellow in Paintings Conservation, is undertaking two research projects. One involves the work of Joseph Albers, specifically relating to the 1943 painting, "Tenayuca", and the second involves research into original varnishes (or lack thereof) on Fauve paintings.
Alejandro Reyes-Vizzuett has been working on a number of projects including the treatment of a 17th century oil painting by Jose Rivera, the treatment of a mural painting in the upper corridor of the Casa Amesti in Monterey, California, and the treatment of a 1921 bronze sculpture of General Pershing by Haig Patigan (located in Golden Gate Park).
Kathy Gillis, formerly of the Oakland Museum of California, has accepted a full-time position in the Conservation Department at the Virginia Museum of Fine Arts, working with Katy Untch. The OMCC greatly misses her and wishes her every success. Assistant conservator Susana Zubiate and husband John Glina are the proud parents of a 6 lb. 9 oz. baby boy, Aidan Miguel, who arrived on November 10. Congratulations! Mark Fenn, formerly of the Wyoming State Museum, is now Associate Conservator at the OMCC. Mark will earn his wings as supervising conservator for the museum's upcoming exhibition on the California Gold Rush, which opens January 24th.
In August, John Burke conducted a conservation assessment of the Carson Valley Historical Society Museum in Nevada, and in September, John presented a 4-day workshop on Anoxic Enclosures and Microenvironments at the Sterling Memorial Libraries at Yale University with co-instructor Tom Strang from the Canadian Conservation Institute. The course, offered through International Academic Projects and coordinated by Sally Shelton of the San Diego Natural History Museum, was a repeat of the Santa Fe NPS course they presented in May. John then traveled to Harper's Ferry to update conservators at the National Park Service Conservation Headquarters on recent advances in anoxia and microclimate techniques.
Regional Reporter:
Paloma Garcia-Anoveros
Lucasfilm Archives
P.O. Box 2009
San Rafael, CA 94912
Tel: (415) 662-1650
Fax: (415) 662-1553
e-mail: paloma@lucasfilm.com
OKLAHOMA
There was a two-day statewide seminar on November 20-21 in Oklahoma City on "The Care of Leather and Animal Skins" sponsored by the OMA and other statewide organizations. Helen Alten, independent conservator from Minneapolis, was the speaker.
The Oklahoma Conservation Congress conducted a one-day workshop on October 1 at the Gilcrease Museum Conservation Department on "The Emergency Response and Salvage Wheel".
The Oklahoma Conservation Congress held its Annual Meeting and Conservation Seminar on Friday, November 14 at Langston University. The sessions included presentations by Dr. Richard Trela, Director of the Conservation Center at Canyon, Texas and by Mr. Ed Shoemaker, Director of the Research Library of the Oklahoma Historical Society.
Regional reporter:
Gayle S. Clements
Thomas Gilcrease Museum of American History and Art
Conservation Department
1400 Gilcrease Museum Road
Tulsa, OK 74127
(918) 596-2780
---
Don't worry about having a strong ego
It is a weak ego that clings,
a strong ego falls away.
Zen Proverb
---