USING A PORTABLE SPECTROMETER TO SOURCE ARCHAEOLOGICAL MATERIALS AND TO DETECT RESTORATIONS IN MUSEUM OBJECTS
SARAH U. WISSEMAN, THOMAS E. EMERSON, MARY R. HYNES, & RANDALL E. HUGHES
4 PERUVIAN POTTERY
Our PIMA spectrometer has been employed upon two occasions for compositional testing of ceramic artifacts in the University of Illinois' Krannert Art Museum.
The first case was a vase (fig. 8) from the Moche culture of the north coast of Peru, dating to ca. A.D. 200 and acquired by the museum in 1967. This hand-built vessel was decorated with felines rendered in a red slip on a white background. A visiting curator noticed flaking of the slip on approximately one-third of the rim, which led to a closer examination under standard floodlight and ultraviolet light. X-rays revealed substantial restoration on the rim and foot in areas corresponding with the flaking slip. Additional confirmation was received by taking PIMA readings of an untouched feline and a restored feline, a procedure that produced two distinctly different spectra. The spectrum on the restored section shows it is a natural resin coating, probably shellac (fig. 9). Our spectrum from unaged shellac has features at 2382, 2347, and 2303 nm, whereas the Moche coating has features at 2383, 2349, and 2304 nm (the features in the 2300s are due to a combination of stretching and bending vibrations).
The second case was a ceramic drum (fig. 10) of ca. 100 B.C. from the Nasca culture of the south coast of Peru. Decorated with white-collared swifts in reddish brown and black slips, it is from the same collection of the Krannert Art Museum as the Moche vase and was acquired the same year. The restoration on this piece is more extensive, as the entire piece was covered with layers of tinted plaster, paint, and shellac that completely obscured the original Nasca birds (Silverman et al. 1996). A conservation grant received from the National Endowment for the Arts funded
Fig. 6. Reconstructed Cahokia-style Conquering Warrior effigy pipe, crafted in the 12th century A.D., flint clay, 24 cm, courtesy National Museum of the American Indian, Smithsonian Institution, Washington, D.C., acc. no. 21/4088.000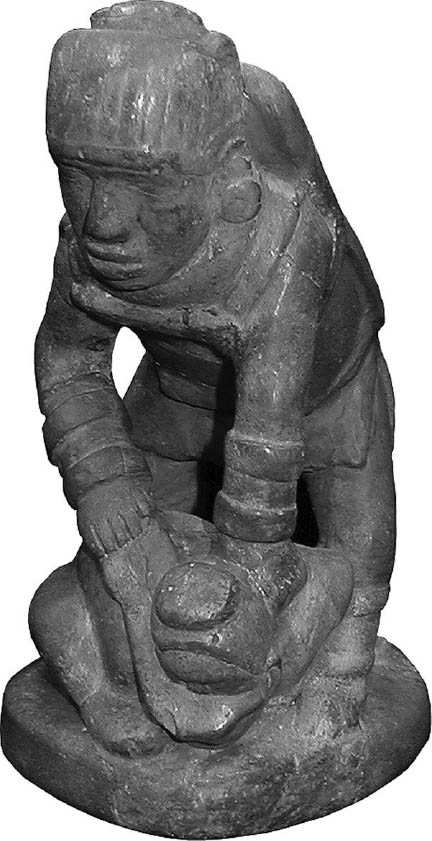 Fig. 7. Spectra of CBP flint clay (a), plaster (b), and possible mixed plaster and flint clay (c) from Conquering Warrior figure.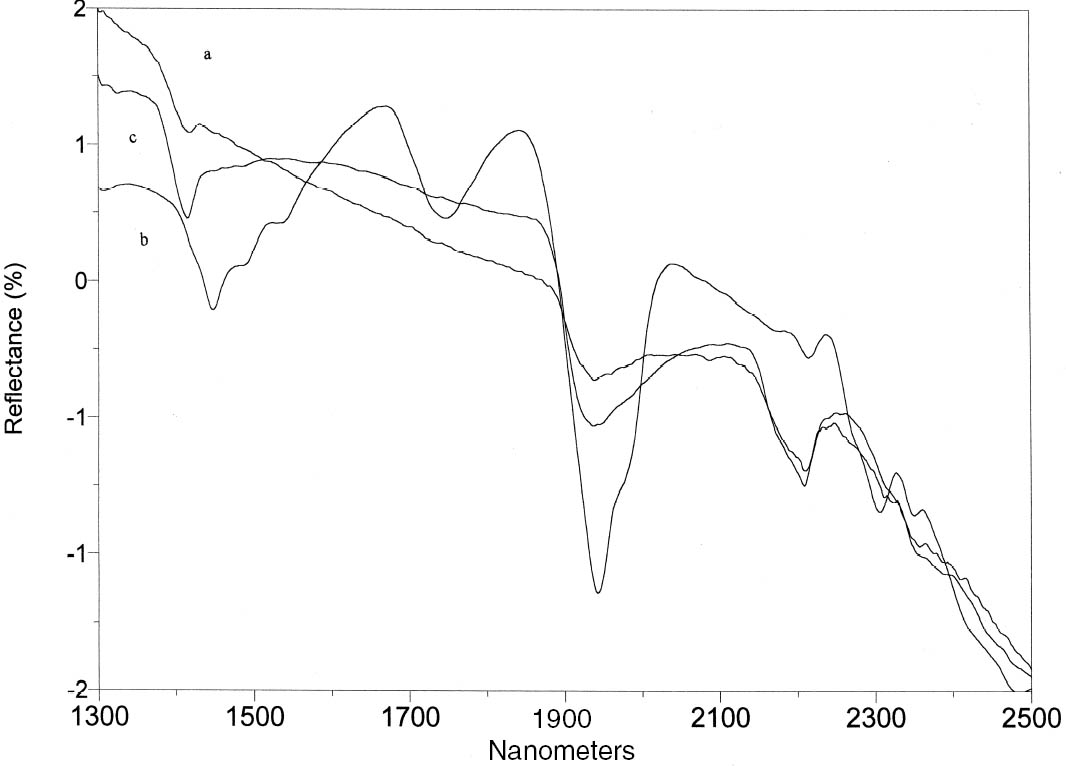 the removal of the spurious layers and reassembly of the drum using reversible, modern materials (hydrostone and Paraloid B-72).

After noting the similarities in the restoration on the Moche vase and the Nasca drum, it was decided to compare PIMA readings of the original drum surface and portions of the removed layers. This comparison resulted in easily distinguishable spectra indicating clear differences in the materials used. When the restored edge was compared with a small reference library of plasters collected at the University of Illinois, the closest match was art plaster made by Activa, which is primarily gypsum: the art plaster has features at 1447, 1486, 1537, and 1942 nm, whereas the gypsum reference has features at 1445, 1490, 1535, and 1946 nm (see figs. 5 and 11).