THE ANCIENT EGYPTIAN COLLECTION AT THE MUSEUM OF FINE ARTS, BOSTON. PART 1, A REVIEW OF TREATMENTS IN THE FIELD AND THEIR CONSEQUENCES
SUSANNE G�NSICKE, PAMELA HATCHFIELD, ABIGAIL HYKIN, MARIE SVOBODA, & C. MEI-AN TSU
4 TRANSPORT AND ARRIVAL AT THE MFA
Artifacts from Egypt were shipped to the United States from Alexandria or Port Said, typically routed through Hamburg. Most of the finds from Sudan, where major sites were located within reach of the railway line to Egypt, were transported north, often photographed at Harvard Camp in Giza, and combined there along with the Giza finds.
Given the vast number of artifacts that were shipped from Egypt to Boston, it is not surprising that damages occurred during transit. Two of the largest pieces in the collection, the colossal granite (or granitic gneiss) statue of Aspelta (MFA 23.730; fig. 2; Dunham 1970) and the limestone false door of Khufuankh (MFA 21.3081) that stands more than 3.05 meters, were both severely fractured in transit. Insurance claims note that both pieces were valued at
Fig. 2. Colossal statue of King Aspelta, assembled in the field. Napatan Period, late 6th century B.C., granite gneiss, height 332.1 cm. MFA 23.730. Courtesy of Harvard University–MFA Expedition, 1920, neg. A2990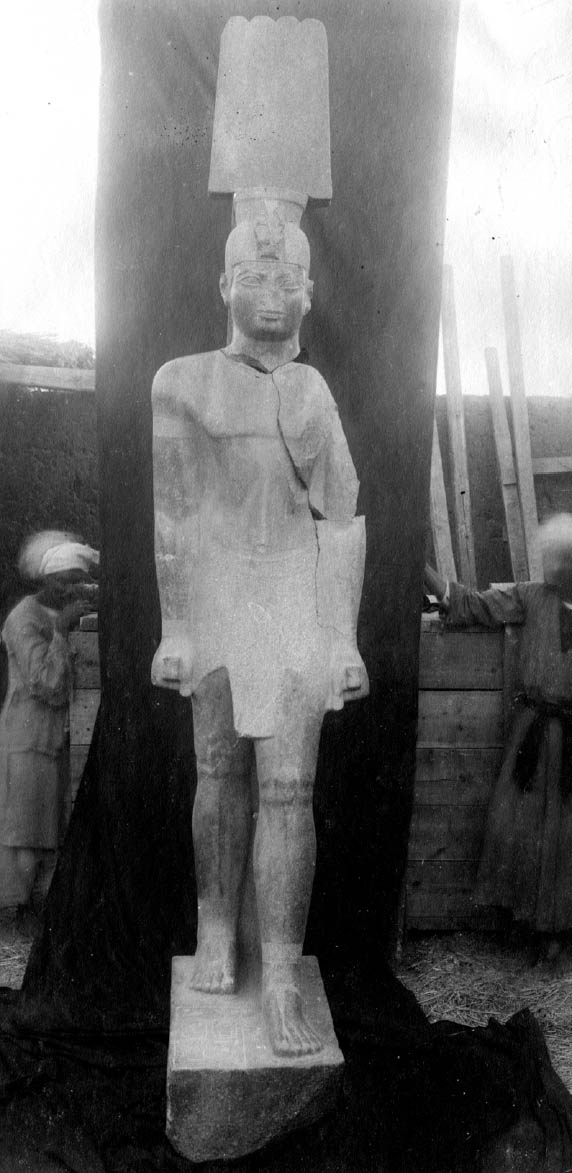 $5,000 and damages were claimed for 10–20% of the value. One of the most serious incidents of damage took place in 1913, when a fire broke out in a shipment of artifacts on the SS Preussen while in transit from Egypt to Hamburg. The fire was extinguished before it reached the cargo area, but substantial water damage was noted. Of particular consequence was the loss of pigment from the relief walls of the mastaba chapel of Akhmeretnetsut and his family (MFA 13.4352; Fisher 1913), which was deemed partially unexhibitable, and the water damage to the wooden statue Senedjem-ib Mehi (MFA 13.3466).

Insurance claims from a later fire on the SS Clan Murdoch in 1920 have provided some insights into packing methods:
[The shipment was] extremely well packed in triple cases, and in addition the more delicate objects were packed in small paste-board boxes. All the objects were first wrapped in cheese cloth, (the stone in burlap) and were then packed in cotton wool. The spaces between the inner and outer boxes were filled with excelsior, straw and wood wool. In the case of the large coffin … the corner, two sides and two ends were covered with tin cases, inside the heavy wood and in the cases. (Anon 1920)
Over several decades, substantial shipments of artifacts arrived in Boston, where a new museum building was constructed in 1908, in part customdesigned to accommodate some of the massive stone objects, such as two mastabas from Saqqara that had been in storage since their arrival in 1904 (MFA Bulletin 1905). One can only imagine the logistical complexities, with the excavators spending most of their time in the field and insufficient personnel in Boston. Exhibition and storage exposed the freshly unearthed materials to the substantial environmental variations of New England, as the building was not climate-controlled.