PAPER PROFILES: AMERICAN PORTRAIT SILHOUETTES
PENLEY KNIPE
2 TYPES OF SILHOUETTES
It is useful to be able to identify and describe the various silhouette types. Silhouettes that are drawn or painted (usually in black) onto a substrate are called, simply, a "silhouette" (fig. 1). As an example, a bust painted in black ink on a piece of paper or plaster falls into this category. "Hollow-cut silhouettes" refer specifically to silhouettes cut from a piece of paper, usually light colored, so that the middle—the positive—drops away, leaving the negative—the outside of the image—to be backed with dark paper or fabric (fig. 2). Alternatively, silhouettes in which the image is cut from a dark material, usually black paper, and mounted onto a substrate, such as a cream-colored card, are called "cutout silhouettes" (fig. 3). In this article, and generally in the literature, the term "silhouette" is used to describe the overall form of portraiture.
Fig. 1. Example of a painted silhouette. John Miers, Silhouette of a Man, facing left (proper right), black watercolor or ink bust silhouette with gold color on plaster. Museum of Fine Arts, Boston, gift of Helen Foster Osborne, 1981. 470. Photograph taken by the author while the Claire W. and Richard P. Morse Fellow in Paper Conservation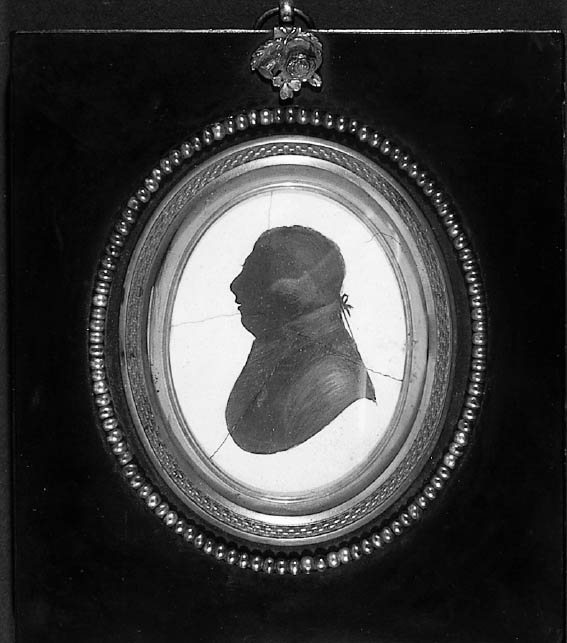 Those objects that show evidence of having been traced using a device with graphite or a metal point are described as "with graphite tracing" or "with stylus tracing." Silhouettes decorated with gold or inked-in hair are described as "with gold color" or "with black ink." If the paper used is known to be painted or coated or is particularly matte or glossy, that information is also included. Descriptions of objects can be rather long and complicated. The description of a typical hollow-cut silhouette might read: hollow-cut bust silhouette from beige wove paper with graphite tracing and black ink, backed with matte, black-coated, white wove paper.
In addition to type and media, a third important facet of silhouette description is format. Silhouettes, like portrait sculpture, are usually either busts or full-figure. Hollow-cuts are always bust length, whereas silhouettes and cutouts are found in both formats. There are "conversation piece" silhouettes, which show a group, such as a family, in a customary setting like a drawing room (fig. 4). Such scenes were popular oil painting subjects in the 18th century. In silhouettes, conversation pieces are composed of individually cutout full-figure silhouettes as well as the cutout accessories of domestic life, including chairs, tables, toys, and books.
Fig. 2. Example of a hollow-cut silhouette. Peale Museum, William Groth(?), facing left (proper right), ca. 1802–10, hollow-cut bust silhouette from beige wove paper backed with black shiny wove paper (mounted in album of silhouettes). Museum of Fine Arts, Boston, gift of Azita Bina-Seibel and Elmar W. Seibel, 1999. 238. 9. Photograph taken by the author while the Claire W. and Richard P. Morse Fellow in Paper Conservation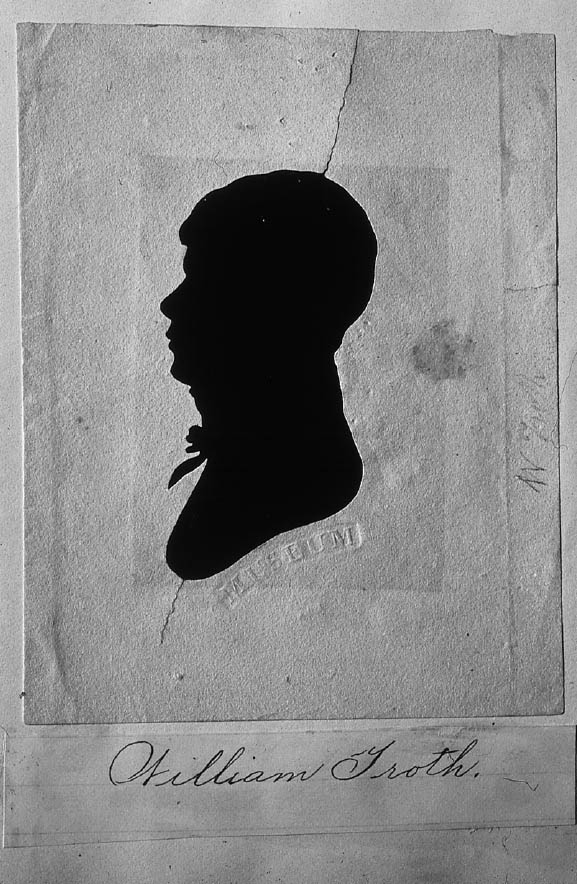 Fig. 3. Example of a cutout silhouette. Samuel Metford, Thomas Goddard, cutout full-figure silhouette from matte, black-coated, white wove paper with graphite, opaque watercolor, and white paper insert (collar) mounted to a lithograph. Museum of Fine Arts, Boston, bequest of Maxim Karolik, 1964. 1139. Photograph taken by the author while the Claire W. and Richard P. Morse Fellow in Paper Conservation