PERMANENCY OF REPROGRAPHIC IMAGES ON POLYESTER FILM
HANNA SZCZEPANOWSKA, & WAYNE WILSON
2 2. GENERAL STRUCTURE
Making an image on polyester film is a complex process. The film itself, the variety of coatings, and the applied imaging chemistry all play an important role in the successful printing and longevity of an image. The basic structure observed in all samples tested was typical of reproductive archival films (fig. 1). Coatings were present on both sides of the film to improve the functionality of the product. One side of an archival storage film may have two or more coatings, one containing the actual image being stored. Because many of the polymeric binders within which the imaging chemicals are dispersed do not adhere well to bare polyester film, a sublayer coating may be used to improve the anchorage of the image to the film.
Fig. 1. Components of imaging film. Graphics by R. Szczepanowski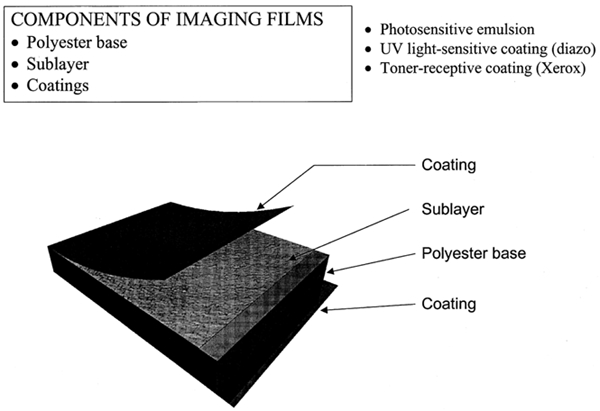 The imaged side of the tested samples was coated with a photoreactive layer, a UV light-sensitive layer, or a toner-receptive layer. In most cases the reverse side was coated with a frost or clear coating and/or antistatic material. The frost coating serves two purposes: to improve the legibility of the image and to provide slip characteristics so the drawing does not block (stick to) the neighboring sheet when stacked.