ACCESS DENIED: ASBESTOS CONTAMINATION AS CATALYST AND HINDRANCE TO COLLECTION RETRIEVAL AND PRESERVATION
VIRGINIA M. DEUCHER, TAMURA L. MOORE, & STEVE HEMLIN
1 1. OVERVIEW
The National Museum of American History's (NMAH) off-site storage program includes three facilities: the Silver Hill Facility and the Museum Support Center, both in Suitland, Maryland, and the Fullerton Objects Storage Facility located in Springfield, Virginia. The facilities total 190,500 sq. ft., and house approximately 50% of the museum's holdings. The NMAH off-site storage program is managed by the Office of Curatorial Affairs, Collections Management Services Department.
Building 17, one of seven NMAH storage buildings at the Silver Hill Facility and the largest at 27,000 sq. ft., over a period of several years had become increasingly contaminated by delaminating, friable asbestos wall and ceiling insulation that released hazardous fibers into the ambient air (fig. 1). The fibers settled onto the surfaces and into the interiors of the approximately 100,000 museum objects stored in the space. This contamination prompted a closure of the building to staff in 1980 until an appropriate artifact asbestos decontamination plan could be developed and implemented. In addition to the asbestos contamination issue, Building 17 was not climate-controlled, secured, or equipped with fire suppression, which put the collections at additional risk.
Fig. 1. Asbestos insulation delaminating from the roof of Building 17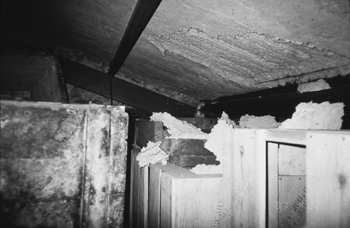 It should be noted that this was not a preservation-driven project but an asbestos decontamination project first and foremost. In aiming to make the objects accessible again, normal preservation concerns and practices became secondary to the asbestos decontamination methods. For example, the consolidation of flaking surfaces and the protection of historic deposits were impossible to accomplish in this environment, as a treatment of this type would lock down any asbestos fibers on the object surfaces and seriously hinder the ability of the decontamination contractors to remove the asbestos. It was determined early in the planning phase that these circumstances would represent "acceptable losses"; the future accessibility of objects was the driving force of the project and the "greater good" in a conservation triage situation. Adjusting to this deviation from normal collection management practices was a challenge for both conservators and museum collections managers.