CONTROLLING THE REFRACTIVE INDEX OF EPOXY ADHESIVES WITH ACCEPTABLE YELLOWING AFTER AGING
CHRISTOPHER C. AUGERSON, & JOHN M. MESSINGER
NOTES
. According to Down (1984) method, the degree of yellowing is represented by the value of At, as calculated by the following equation:
Fig. .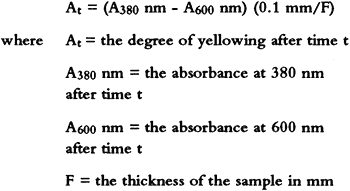 Samples with At values of less than 0.1 were always considered "acceptable" in color (as determined by a group of observers). At values between 0.1 and 0.24 were considered to be of "questionable acceptability." At values greater than 0.25 were always considered to be "unacceptable" in color.


REFERENCES
Down, J. L.1984. The yellowing of epoxy resin adhesives: Report on natural dark aging. Studies in Conservation29(2):63–76.
Messinger, J. M., II, and P.Lansbury. 1989. Controlling the refractive index of epoxy adhesives. Journal of the American Institute for Conservation28:127–36.
Ogden, P. H.1975. A new glass adhesive. Minnesota 3M Research Limited, Pinnacles, England.
Tennent, N. H., and J. H.Townsend. 1984a. Factors affecting the refractive index of epoxy resins. In ICOM Committee for Conservation Preprints, 7th Triennial Meeting, Copenhagen. 2: 84.20.26–84.20.28.
Tennent, N. H., and J. H.Townsend. 1984b. The significance of refractive index of adhesives for glass repair. In Adhesives and consolidants, ed.N. S.Brommelle et al. London: International Institute for the Conservation of Historic and Artistic Works. 205–12.
AUTHOR INFORMATION
CHRISTOPHER C. AUGERSON received his M.A. in art conservation from the State University College at Buffalo in 1992. He has recently completed an advanced internship in the conservation of traditional European polychrome sculpture sponsored by the Samuel H. Kress Foundation and the Fine Arts Museums of San Francisco. He is currently the sole proprietor of Augerson Art Conservation Services. Address: 1762 Church St., San Francisco, Calif. 94131.
JOHN M. MESSINGER II received his Ph.D. in organic synthesis from the State University of New York at Buffalo in 1986. Until 1993, he was associate professor of conservation science in the Art Conservation Department of the State University College at Buffalo, where he taught since 1986. He is currently a dental student. Address: School of Dental Medicine, Squire Hall, State University College at Buffalo, Buffalo, N.Y. 14214.