BINDING MEDIA IDENTIFICATION IN PAINTED ETHNOGRAPHIC OBJECTS
DUSAN STULIK, & HENRY FLORSHEIM
8 BINDING MEDIA IDENTIFICATION PROCEDURE
If there is previous knowledge of binding media used by a particular culture in a corresponding time period or in a given geographic region, the Binding Media Test Chart (table 1) can be used for binding media identification. An individual test or a series of parallel tests can be used to find which type of binding medium is present in a paint sample. A strong starch test indicates whether a starch binding medium is present. A strong triglyceride test indicates whether a drying oil or lard binding medium is present. (A solubility test might help differentiate between polymerized drying oil and non-polymerized lard.) A strong protein test, medium tryglyceride test, and weak phosphorus test determine the presence of an egg-based binding medium.
TABLE 1 BINDING MEDIA TEST CHART
If there is no previous knowledge about the character or type of binding medium used, a more systematic approach based on the Binding Media Identification Flow Chart (fig. 8) is recommended. Such an approach allows for separation of binding media, and multiple tests can be performed using a single sample.
Fig. 8. Binding media identification flow chart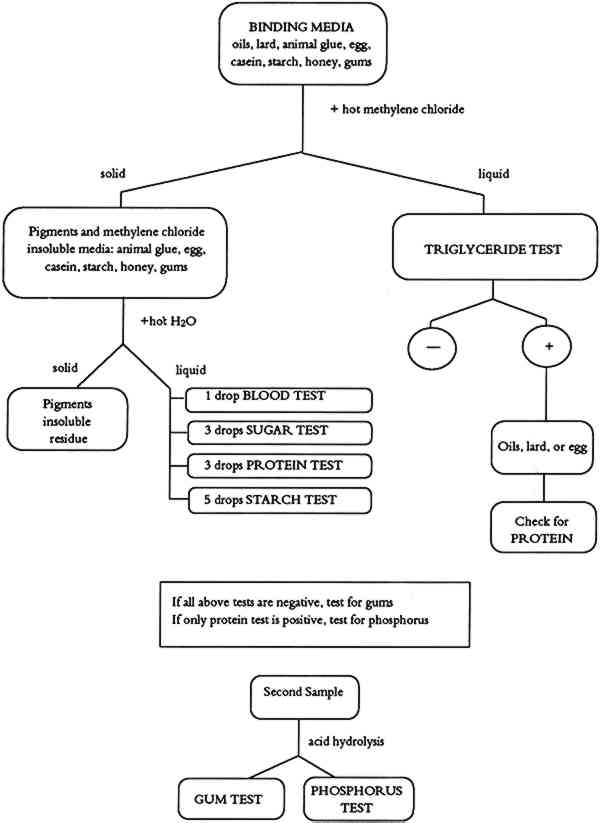 About 5 mg of finely ground paint sample is placed into a microcentrifuge test tube. A small amount of methylene chloride (CH2Cl2) is added, and the test tube is placed in a beaker of hot water in an ultrasonic bath in a fume hood until the solvent begins to boil. Centrifugation separates the supernatant, which is tested for the presence of triglycerides (triglyceride test). The solid phase in the bottom of the test tube is boiled with distilled water for about 1 minute, mixed, and centrifuged. The resulting second supernatant is tested for the presence of blood, simple sugars, proteins, and starches. If all of the above tests are negative, a second sample should be tested for the presence of gums. Analysis of samples giving multiple positive tests should be interpreted using the Binding Media Test Chart (table 1).