BINDING MEDIA IDENTIFICATION IN PAINTED ETHNOGRAPHIC OBJECTS
DUSAN STULIK, & HENRY FLORSHEIM
7 TEST FOR BLOOD
Several cultures have been known to use blood as a binding medium for painting. Although blood appears to be a simple liquid, it is actually a body tissue. The cells, instead of being joined together as in solid body tissues, are suspended in a fluid, called plasma. The cellular portion of blood consists chiefly of red blood cells, with a smaller number of white blood cells and platelets. Chemically, blood is made up of water, inorganic salts, proteins, lipids, polysaccharides, glucose, cholesterol, and hemoglobin. This blood test is based on detection of heme molecules in the paint sample and is used in forensic science to detect fresh or aged blood.
7.1 METHOD
The test is based on the peroxide-mediated oxidation of reduced phenolphthalein in which the heme molecule acts as a catalyst (Saferstein 1982).
7.2 PROCEDURE
The blood test flow chart is shown in figure 7. About 0.5 ml of distilled water is added to 5 mg of finely ground paint sample in a 3 ml flat-bottom vial. The resulting suspension is boiled for about 2 minutes on a hot plate. After cooling to room temperature, the suspension is transferred to a microcentrifuge tube and centrifuged for about 1 minute. One drop of supernatant is mixed with 3 drops of phenolphthalein working solution and observed for about 30 seconds. The mixture should remain colorless. Three drops of 3% hydrogen peroxide are added to the colorless solution. Development of a pink color within 30 seconds indicates the presence of blood.
Fig. 7. Blood test flow chart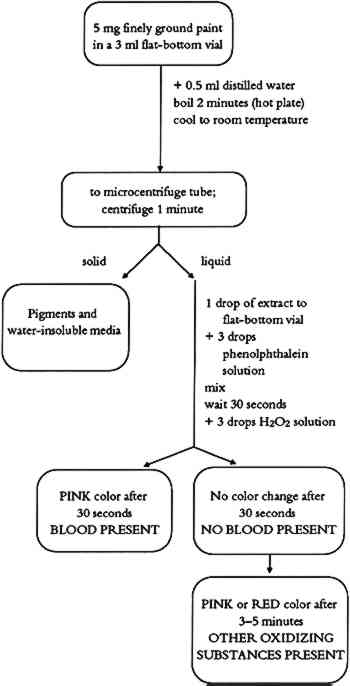 7.3 COMMENTS
The blood test can be used to detect the presence of blood in red or black paint layers. Iron oxides and metal salts have been reported to give a false positive test (Saferstein 1982). Our tests with red ochre did not show such a problem. The color obtained when charcoal black-blood paint layers are analyzed gives a weaker positive test, possibly due to the heme adsorption on charcoal particles. Pink or red color that develops after 3-5 minutes is due to the presence of other oxidizing substances or to peroxidase catalysts from certain plant sources (Saferstein 1982).