THE CONSERVATION OF A PHOTOGRAPH ALBUM AT THE NATIONAL ARCHIVES OF CANADA
GREGORY HILL
7 TREATMENT OF THE ORIGINAL PAGES
FOLLOWING THE removal of all the photographs, the original pages were washed and aqueously deacidified with magnesium bicarbonate where possible. Soluble inks and watercolor pigments exempted approximately 80% of the pages from this treatment. For those pages treatment was restricted to local removal of residual adhesive followed by flattening and nonaqueous deacidification with methoxy magnesium methyl carbonate (Wei T'o Solution No. 2). All the pages were then placed in numerical order, interleaved with high-quality buffered paper, and sent to the Records Conservation Division for boxing.
The original jackets were repaired and consolidated. Two clamshell boxes were fabricated to house them and the original pages (fig. 10).
Fig. 10. Original jacket in box with original pages inside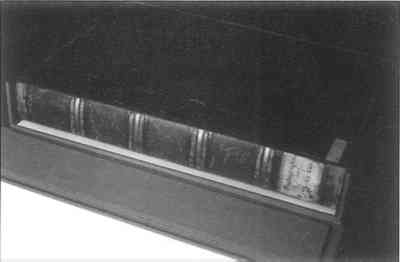 The decision to preserve the original bindings, which could be seen as having little historic or intrinsic value, was unanimous. They are integral to the history of the album as a whole and to the collection.