THE CONSERVATION OF A PHOTOGRAPH ALBUM AT THE NATIONAL ARCHIVES OF CANADA
GREGORY HILL
6 BINDING
THE POST-BINDING system selected for the new album allows for pages to be removed for research and display. There are, however, several drawbacks to post-binding. The greatest disadvantage is that the pages will not lie flat for viewing when the album is opened, being forced to bend above the posts. To accommodate the bending so that photographs mounted close to the edge would not be damaged and would lie flat, the width of the page was extended.
Another disadvantage to the system is its physical appearance; it is difficult to make a post-binding resemble a 19th-century account-style binding. Nevertheless, the Records Conservation Division binders succeeded in producing a very elegant binding. The original album's half leather and cloth binding was replicated, including the gold tooling, as closely as possible with modern materials. A thin sheet of Japanese tissue was attached to the binding edge of each page for interleaving, to minimize abrasion of the prints (fig. 8).
Fig. 8. Completed album showing inter-leaving of the pages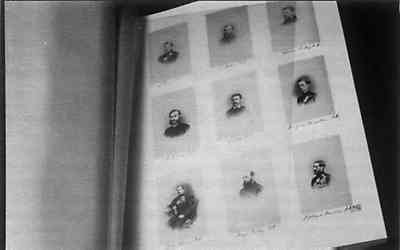 The album was returned to its original three volumes, the size of the first volume being noted on the original pages. As no notations existed on the original pages to divide the second from the third volume, the division was arbitrarily based on an even distribution of the pages. A labeled clamshell box was fabricated for each album (fig. 9).
Fig. 9. Completed album