A FRESH FACE FOR SAMUEL GOMPERS: METHYL CELLULOSE POULTICE CLEANING
Lisa A. Goldberg
3 CONCLUSION AND SUMMARY
THE SCULPTURE WAS SUCCESSFULLY CLEANED of surface dirt and grime (Figure 5). By changing the adhesive and film forming properties of the gel, it was possible to evenly clean the sculpture without causing mechanical damage in the process.
Fig. 5. Portrait bust of Samuel Gompers, after treatment.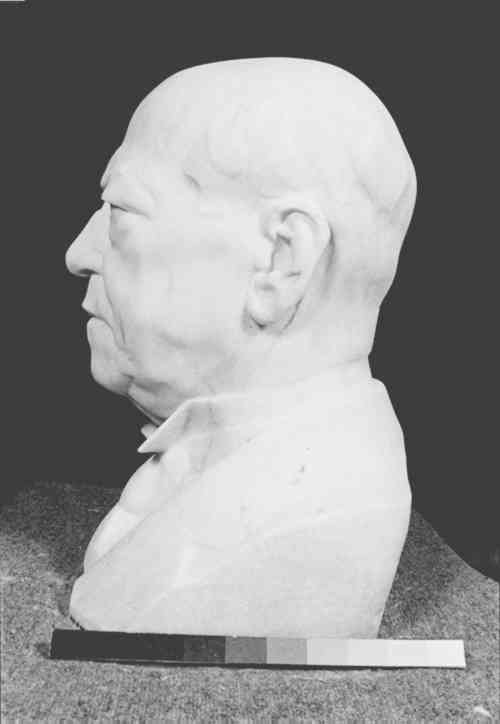 Further modifications to this system might include the use of additional bulking agents like paper pulp, the use of other gel media such as polyacrylic acids or an admixture of a different molecular weight methyl cellulose to produce a paste which would sag less on vertical surfaces. Different gel forming media and plasticizers may be more appropriate for different types of stone in different states of preservation. The rheology, adhesion and film forming properties of gel solutions can be tailored to suit the object through the wise use of additives.
---
ACKNOWLEDGEMENTS
I WOULD LIKE TO THANK Susan West and Carol Grissom for their help and encouragement while I was an intern in their laboratory. Many thanks are also due to Stephen Koob, and Robin Chamberlin for their comments and help in preparing this paper.