STORAGE SUPPORTS FOR A BASKET COLLECTION: A PREVENTIVE CONSERVATION APPROACH
Thurid Clark
5 CONCLUSIONS
The preceding supports, a variety of which are shown in Figure 10 and with baskets in Figure 11, are but a small number of many that were developed during this project. A combination of factors makes these more practical that others that were tried, but not repeated. Their most positive points are that:
they greatly reduce the risk of damage during handling;
students and volunteers can be instructed in a very short time to construct these supports with minimal supervision by the conservator; and
they can be constructed with simple hand tools and materials which are relatively modestly priced.
With these basic guidelines, conservators can develop similar supports that meet the needs of each specimen or collection.
Fig. 10. Actual ring supports, basket supports, boxes, and collars,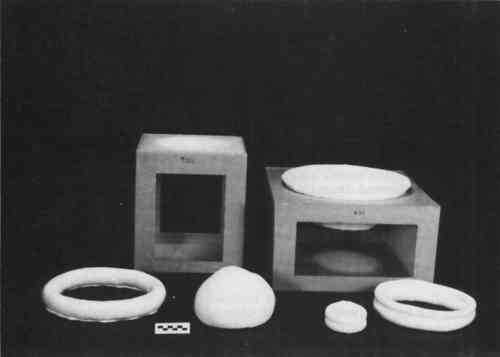 Fig. 11. Various supports in use.