Emory University Libraries Preservation Office
by Ann Frellsen
The Preservation Office at Emory University was established in 1985 to serve all Emory Libraries, consistent of the Law Library, the Health Sciences Center Libraries, the Pitts Theology Library, the Oxford College Library, and the General Libraries (the Candler Undergraduate Library, the Chemistry Library and Woodruff Library). The size of the collections totals 2.2 million volumes. The Preservation Office is organized into two units: Conservation and Reprographics (see chart). Because the libraries at Emory are decentralized, work flow is initiated through liaisons: five liaisons for general collections (one for each library) and three liaisons for special collections.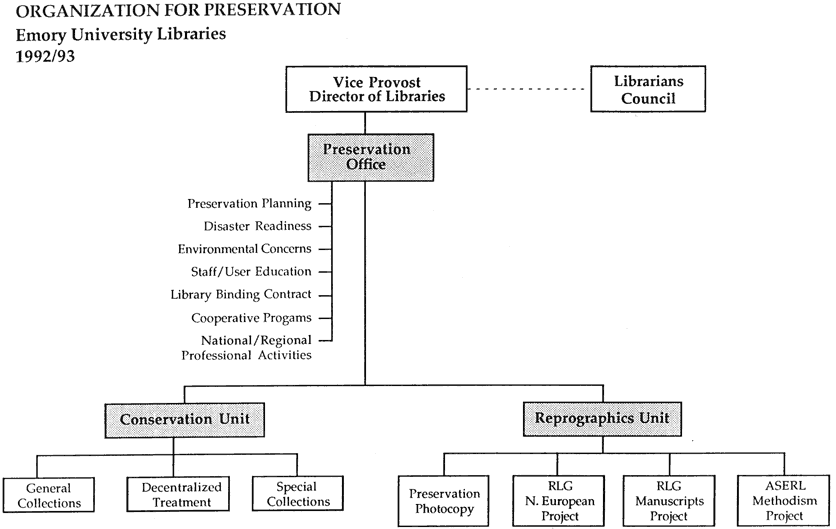 The primary focus of the conservation program is to maintain the collection for research use. The Conservation Unit provides centralized repair focusing on the general collection as well as the construction of protective enclosures for Emory Libraries' special collections materials. Binding preparation, labeling, and shelf preparation are done by units other than Preservation.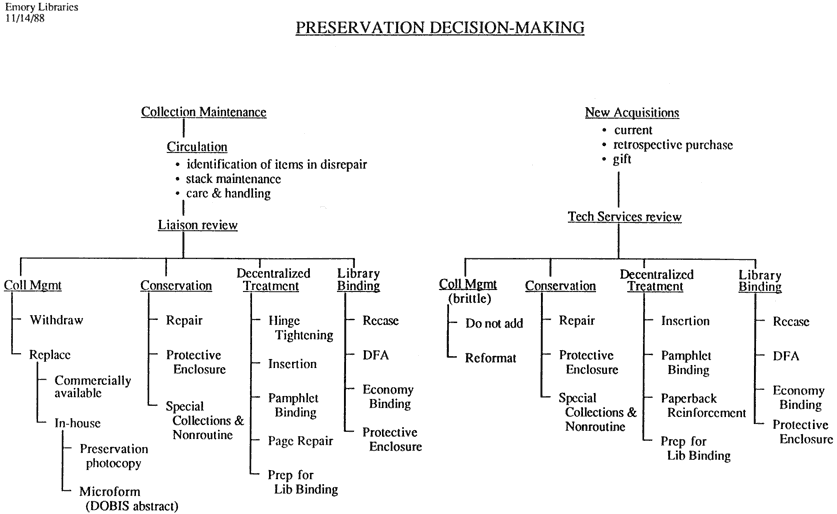 The work flow chart describes the treatment decision-making process. Items for repair are generated in different ways in the libraries. Most libraries' repair work is primarily use-driven, but the Health Science Center and Law libraries (both of which have large non-circulating collections) have staff go into the stacks on a prescribed schedule to review each shelf and pull volumes to be repaired. The volumes are reviewed by each library's liaison and retained for treatment by decentralized staff if the repair is simple, such as hinge tightening. If not, the item is routed to one of three places: the library binder; Collection Management; or Conservation. Volumes for repair are sent to Conservation on a weekly quota system: approximately 10 volumes per week per library. The volumes are brought to Conservation via an inter-campus truck delivery.
Items are reviewed, flagged for the appropriate treatment, and completed in batches. Any volumes meeting criteria specified by Special Collections (e.g., signed copies, pre-1900) are held for review by Special Collections staff. There is a one week turn-around time from arrival at the repair facility to delivery back to the library. Some items requiring extensive or more complicated treatment are kept for a short time longer. The staff are trained to do all types of routine treatments; items requiring non-routine treatment are handled by the Unit Supervisor or the most experienced staff.
Items referred to the Collection Management staff are reviewed by selectors for replacement or retention. If an item needing replacement is not found in reprint or is not commercially available in some form, the Preservation Office can act as the vendor of last resort to make a preservation photocopy of the item or send the item to a contractor for preservation microfilming.
Conservation is equipped to do all types of repairs except those involving chemical solvents due to the lack of a fume hood and a conservator. Decentralized liaisons are equipped with tools and supplies for minor repairs only (pamphlet binding, tip-ins, etc.). Conservation treated a total of 2,005 volumes in 1990/91, with the decentralized units treating 3,019 volumes, for a grand total of 5,024 volumes treated. Conservation staff also provide workshops on care and handling for general library staff and train decentralized staff to perform simple repairs. Disaster teams are trained by the Conservation Unit Supervisor.
An item is rarely treated as an artifact, receiving single-item conservation treatment. Recently, however, a continuous program to treat special collections materials has been implemented for the first time at Emory. Each Emory library has been assigned one quarter during the academic year in which special collections items may be sent for one of the following treatments:
encapsulation
construction of book cradles for exhibits
matting
construction of a protective enclosure (phase box, double-tray box, portfolio, envelope with sleeve, or platform box)
In addition, the library may request that Special Collections staff be trained to refurbish materials (dusting, interleaving, construction of polyester jackets).
Ann Frellsen
Conservation Unit Supervisor
Emory University Libraries
---
Publication History
Received: Fall 1992
This paper is one of the institutional profiles offered by participants in the Library Collections Conservation Discussion Group at the the Book and Paper specialty group session, AIC 20th Annual Meeting, June 2-7, 1992, Buffalo, NY.
Papers for the specialty group session are selected by committee, based on abstracts and there has been no further peer review. Papers are received by the compiler in the Fall following the meeting and the author is welcome to make revisions, minor or major.