EFFICIENT NEW METHODS FOR EMBEDDING PAINT AND VARNISH SAMPLES FOR MICROSCOPY
MELVIN J. WACHOWIAK
5 STORAGE
When the documentation is finished, the embedded samples are removed from the holder and stored in plastic boxes. Polystyrene matchboxes (Electron Microscopy Sciences) (fig. 21) will hold 10 tablets.
Archival storage, in the true sense, would require more controlled conditions. The polystyrene plastic box may affect the embedded samples over time. The epoxy resin is intended for electronics and optical bonding applications where the use is constant but
Fig. 18. Detail of Rotoforce-1 motorized sample mover. Pressure is controlled by adjustable air pressure pads over each holder. This head rotates at 60 rpm, while large platen rotates at adjustable speeds.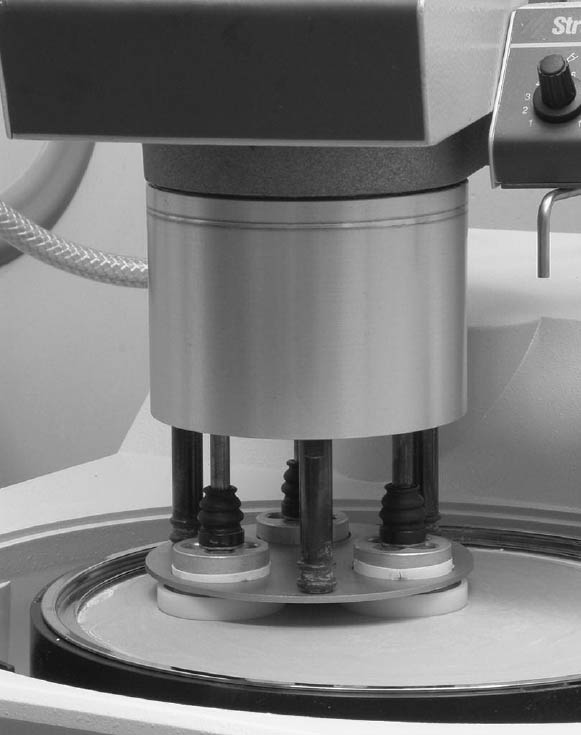 the service life is unknown. However, the resin must remain clear and colorless during use, and our examination period is quite short by comparison. More important, the exposed samples will have to be held in desiccated storage conditions. Metal leaf and paint can corrode in just a matter of days, and some materials are so hygroscopic that they form salts on the surface of the prepared section. Desiccant cabinets for all samples are certainly not practical, but the specialized need is worth anticipating.