THE RATIONALE FOR MICROABRASIVE CLEANING: A CASE STUDY FOR HISTORIC GRANITE FROM THE PENNSYLVANIA CAPITOL
J. CHRISTOPHER FREY, & TIMOTHY NOBLE
3 ANALYTICAL TECHNIQUES
The characterization of problematic conditions and assessment of potential remedial treatment involved a combination of in situ and laboratory testing and examination. The authors completed an assessment of surface conditions before and after the execution of in situ testing mock-ups using 7–30x field microscopes. Laboratory evaluation of surface and subsurface conditions employed a combination of reflected light microscopy (RLM) and polarized light microscopy (PLM). Chromatic values for selected samples were established with a Minolta Chroma Meter CR-221. Microchemical testing provided for qualitative analysis of soluble salts.
Carl Moses of the Lehigh University Department of Earth and Environmental Sciences used a combination of RLM, PLM, and x-ray diffraction (XRD) to complete petrographic analysis. Although Moses
Fig. 1. Pennsylvania Capitol, before work. Photograph by authors, 1997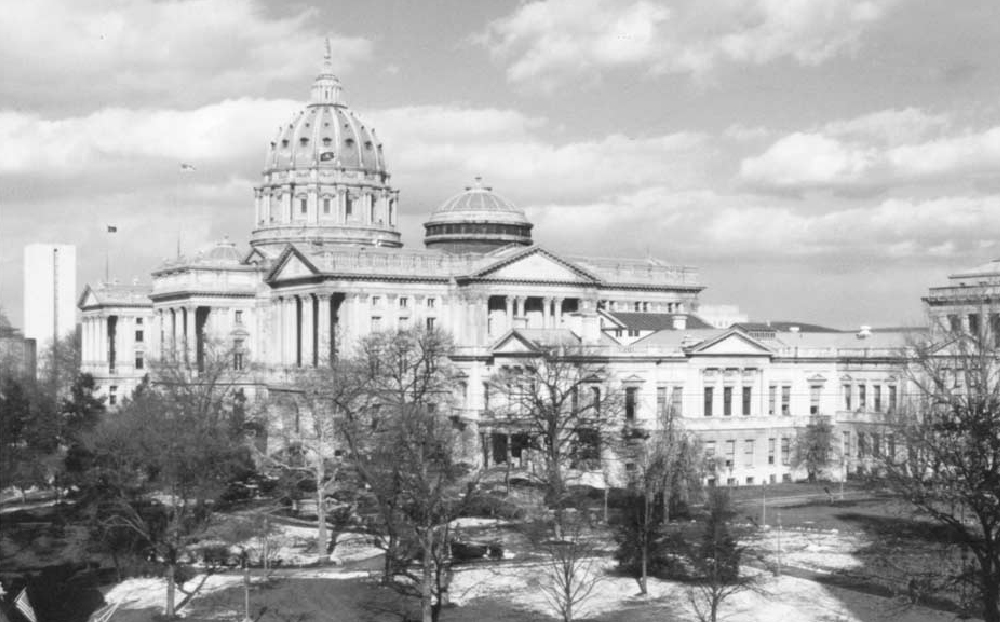 also conducted advanced permeability testing to gauge the pressure necessary to force liquid through cleaned and uncleaned samples, the results of such testing were inconclusive and thus have not been included in this article. Testing also evaluated the surface absorption capacity of weathered, unweathered, and cleaned surfaces using RILEM tubes sealed against the surface in accordance with RILEM Test Method II.4, Water Absorption under Low Pressure. For the purposes of this study, results obtained from this test procedure were found to be most useful as a means of illustrating the comparative potential for water to be absorbed through selected surfaces before and after cleaning, as opposed to providing absolute numerical data.

Investigations into the effects of tooling, weathering, and cleaning procedures on surface topography were completed with a combination of RLM, PLM, and scanning electron microscopy–energy dispersive spectrometry (SEM-EDS). The authors directed SEM-EDS procedures at a private materials testing laboratory.