INTERPRETATION OF ANCIENT ARTISTRY: CONSERVATION OF A GOLD WREATH FROM THE FOURTH CENTURY B.C.
JEFFREY P. MAISH
5 CONCLUSIONS
The treatment did not produce as naturalistic an impression as may have been intended originally, but it reflects our present knowledge of the wreath. The original artist may have wondered at such close scrutiny, but the scrutiny did result in a more accurate presentation (fig. 12). It also came as a surprise that underlying the seeming chaos of the wreath, there was a certain logic that presented an interesting aesthetic balance between logic and artistry. The recovery of this underlying sense of order, together with the repair work, has brought forth in the wreath a greater sense of life.
Fig. 12. Detail showing the front center of the wreath after treatment. Note the increased density of foliage as well as the more coherent presentation.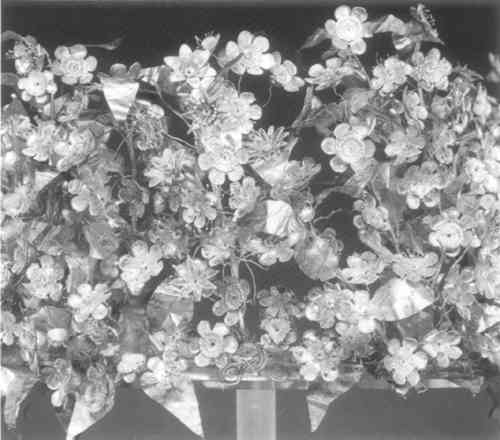 ---
ACKNOWLEDGEMENTS
I would like to thank the staff of the Antiquities Conservation Department, J. Paul Getty Museum, in particular Jerry Podany, head of conservation, for their many valuable suggestions and insights into the treatment. I would also like to acknowledge the assistance of Karol Wright, Antiquities Curatorial Department for art historical background on the wreath and Arie Wallert, David Scott, and Eric Doehne, the Getty Conservation Institute for their scientific investigations of the wreath. Finally, I would like to thank the members of the Photographic Services Department of the J. Paul Getty Museum for the documentation photographs they provided.