THE HARVARD GLASS FLOWERS: MATERIALS AND TECHNIQUES
RIKA SMITH McNALLY, & NANCY BUSCHINI
4 PAINT AND PIGMENT ANALYSIS
4.1 PAINT MEDIA
Letters from the Blaschkas to Goodale and the Wares at the time the glass models were made indicate that paint was used to color the models, at least in the earlier period of 1886–95. Indeed, in one letter in the museum's archives, Rudolph Blaschka described that he "painted and daubed like a Rembrandt" (Blaschka 1900).
The FTIR spectrum of the green paint on P. ackermanni (model 318, 1892) indicated that the binder is probably a natural resin or perhaps a mixture of natural resins. A search of a reference library of spectra of natural resins gave dammar as the closest match (fig. 2, spectra 4). The paint binder on the green painted leaves of the Datura (model 291, 1892) was analyzed and identified as hide glue. Other visual examinations and solvent tests revealed that paint was soluble in either water or acetone. We conclude that the Blaschkas used a variety of organic media to paint the models, possibly even using different media on the same model.
Fig. . FTIR spectra 4, paint media from Phyllocactus ackermanni (model 318, 1992) and dammar resin reference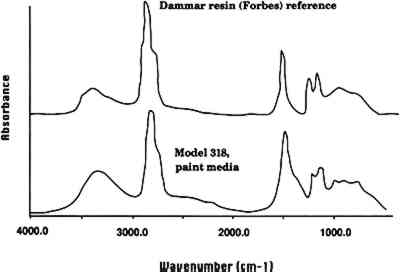 Rudolph Blaschka wrote in a 1906 letter to Mary Lee Ware that the underside of the red maple leaf model (model 726 B) is painted in oil (the rest of the color on this model was achieved by colored glass or enamel) (Blaschka 1906). To date we have not identified any use of oil paint on the models, and the maple leaf model is not currently available for analysis. It is possible that the underside of the leaves of this model, as well as parts of other models, are painted in an oil paint. It is also possible that Rudolph Blaschka was not exact in his description or may have referred to resin paint as oil paint. We hope to carry out additional analyses when the maple leaf model is available.
4.2 PIGMENT IDENTIFICATION
Pigment samples from 13 of the cold-painted models were analyzed using polarized light microscopy and x-ray fluorescence spectroscopy in a scanning electron microscope. The samples included a range of hues: yellow, red, pink, white, orange, blue, and green (six samples were analyzed). The results indicate that the colors were composed of mixtures of pigments. These are summarized in table 3.
TABLE 3 ANALYSIS OF PIGMENT SAMPLES
The organic dyes present in the red, pink, and blue samples consisted mainly of a red colorant. The use of dyes is of concern, as the Botanical Museum had wondered if some of the colors had faded. Fading is not apparent, except possibly on a few purple flowers. Although we did not specifically identify the red dyestuff (or dyestuffs), red dyes that would have been available at the time the models were made are susceptible to fading. Ultraviolet light filters and lowered light levels have been recommended to prevent further alteration of the colors containing dyes.