U.S. CUSTOM HOUSE, NEW YORK CITY: OVERVIEW OF ANALYSES AND INTERPRETATION OF ALTERED ARCHITECTURAL FINISHES
CONSTANCE S. SILVER, FRANK G. MATERO, RICHARD C. WOLBERS, & JOEL C. SNODGRASS
1 INTRODUCTION
The U.S. Custom House at One Bowling Green in Manhattan (fig. 1) was designed by the pre-eminent American architect, Cass Gilbert (1859–1934) for the administration of customs duties collected from the Port of New York. Seven stories high and occupying a small city block, the building was the largest and certainly the most palatial of its type. It embodies the essence of Beaux-Arts traditions in its siting, plan, and elaborate decoration, while meeting the necessary requirements of a functioning office building.
Fig. 1. U.S. Custom House, New York City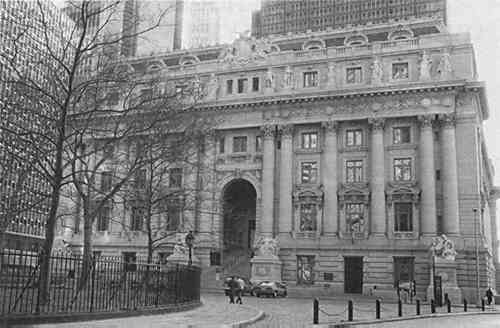 Gilbert's design is a masterpiece of integrated architecture, engineering, sculpture, mural painting, and decorative arts. The exterior sculptural program was conceived and executed by Daniel Chester French (1850–1931) with Adolph Weinman, Karl Bitter, and other prominent sculptors. The Tiffany Studios executed the decorative woodwork. The mural paintings, decorative finishes, and architectural polychromy were designed and executed by Elmer Garnsey from 1910–12 in collaboration with Gilbert (1862–1946), ensuring a unified design for the entire building. In 1937, under the Treasury Art Program (TRAP), Reginald Marsh (1898–1954) completed the intended decorative ensemble, painting 16 monumental murals in the elliptical rotunda. Marsh retained and completed Gilbert's iconographic theme for the entire building: the Port of New York and its place in maritime history.
The U.S. Custom House suffered destructive alterations while in use, including early and almost complete overpainting of Garnsey's original architectural polychromy and finishes. The building was largely abandoned in 1972 when the U.S. Customs Service moved to the new World Trade Center. In 1991, the renovation and restoration of the major public spaces of the Custom House began. The process includes the conservation of all surviving original mural paintings and finishes, the replication of the architectural polychromy, and the restoration of the elaborate metalwork and sculpture. The building is now shared by the National Museum of the American Indian of the Smithsonian Institution and Federal Bankruptcy Court.
This paper focuses on the examination and analyses of Garnsey's original decorative finishes and architectural polychromy. This research served as the foundation for the conservation of intact finishes and the reproduction of lost finishes. However, the original execution techniques were so complex and unusual that an exact understanding of the precise physical nature and original appearance of Garnsey's finishes is somewhat elusive. The analyses were greatly complicated by the changes in and illegibility of the finishes due to physical and chemical alterations, damage from maintenance practices, and heavy overpainting. Nevertheless, investigations and analyses did reveal that Garnsey used only five base colors (see section 3.1) for the architectural polychromy of the public spaces throughout the building, often in combination with tinted glazes and scumbles. Both the tones of the five base colors and the glazes had obviously altered, assuming a darker, "muddier" cast; the glazes also had blanched in many instances.
To ascertain Garnsey's intended colors and surface finishes, detailed on-site examinations, scientific analyses, and archival research were required. The often perplexing results indicate combinations of the five base colors, imitative finishes that suggest marbling, and tinted glazes, all in tonal and textural coordination with the multicolored marbles, breccias, and patinated metalwork of the interiors. The following sections summarize the methodological approach developed for the investigation and replication of Garnsey's lost finishes.1