CAN THE COMPLEX BE MADE SIMPLE? INFORMING THE PUBLIC ABOUT CONSERVATION THROUGH MUSEUM EXHIBITS
JERRY C. PODANY, & SUSAN LANSING MAISH
5 ENVIRONMENT
A display of a cutaway microclimate exhibition case containing a bronze statuette introduced the section on the importance of environmental issues (fig. 3). The display exposed a variety of protective layers under the case build-ups that help maintain a stable and controlled environment. A duplicate mount and build-up illustrated how the statuette was held in place. A tray of silica gel and a digital hygrometer were also visible. An accompanying notebook described additional environmental equipment used to monitor humidity, light, and ultraviolet radiation levels. This display may not have attracted as much initial attention as the video or the reproduction vase exercise, but for those who took the time to consider carefully the issues involved in prevention and the continual maintenance of works of art on display and in storage, it encouraged reflection and discussion.
Fig. 3. "Cut-away" microclimate exhibition case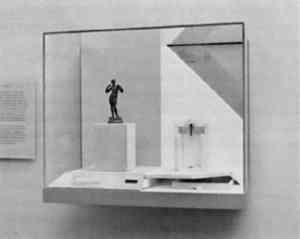 The oil and grime that can accumulate on art objects just by being touched was illustrated by a 4 in square piece of modern marble that had been exposed to handling for one year prior to the show's opening. This display prompted several visitors to say that they will no longer be tempted to touch objects in a museum after seeing the difference between the protected central area and the unprotected peripheral areas of the marble piece.
Another environmental display evoked much reflection on the dangers that works of art face in the seismically active area of California (fig. 4). Two reproduction vases were mounted to a build-up over a small "shake" table that was constructed by the antiquities conservation mountmaking staff. One vase was mounted with the added protection of an isolation base. When the visitor pushed a button, the build-up in the case shook, simulating earthquake motion or other sudden trauma. The demonstration clearly showed that the isolation mechanism protected the vase from damage, while the other vase shook violently. Simpler methods of securing vases—for example, the use of dental wax to secure some vases on Plexiglas mounts—were pointed out in the adjoining vase display gallery.
Fig. 4. "Shake table" display featured in the Environment section