CAN THE COMPLEX BE MADE SIMPLE? INFORMING THE PUBLIC ABOUT CONSERVATION THROUGH MUSEUM EXHIBITS
JERRY C. PODANY, & SUSAN LANSING MAISH
3 SCIENTIFIC EXAMINATION
The second section of the exhibition stressed the importance of the thorough scientific examination of objects before treatment. To provide some hands-on involvement and to increase the variety of the experience, a large-screen microscope, the Wentzscope, was readily available so that visitors could manipulate and view a number of samples, including pigments and mineral encrustations relating to objects in the collection (fig. 1). Further examples of close visual and microscopical examination were featured in a slide presentation. A large photo mural of a conservation scientist with a scanning electron microscope provided an example of the more complex analytical tools used to get a closer look at objects. In an accompanying notebook, scanning electron photographs of ancient gold jewelry provided more detailed explanations.
Fig. 1. Visitor using the large view microscope in the Scientific Examination section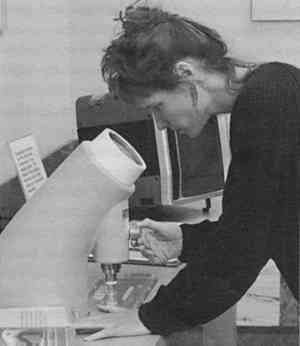 The problem of authentication of objects has gained a great deal of attention in the popular press, and the public is especially interested in how the identity and provenance of an object are verified. The exhibition offered an opportunity to clarify misconceptions about both the abilities and the limitations of technical and scientific investigation. A display of two ceramic vessels, one ancient and one a modern forgery, led visitors through a series of questions regarding their own perceptions and observations as to what signals authenticity and what indicates forgery. The answer to these questions and more detailed explanations were included in a notebook kept below the case. The techniques of thermoluminescence, ultraviolet inspection, and x-ray fluorescence spectroscopy were also described in the notebook.