BINDING MEDIA IDENTIFICATION IN PAINTED ETHNOGRAPHIC OBJECTS
DUSAN STULIK, & HENRY FLORSHEIM
5 TEST FOR PROTEINS
Proteins are simple or complex polymers consisting of chains of amino acids. There are 22 naturally occurring amino acids that are bound together in proteins by peptide linkages (-CO-NH-). The molecular weight of proteins ranges from 104 to 107. Amino acids occur in varying proportions in different proteins. Several proteinaceous materials have been used as binding media in ethnographic art objects. Glue is obtained by drying solutions made from boiling animal skin or bones in water. Gelatin is a purer form of glue made from selected, cleaned animal matter. Egg has two protein-rich parts. Egg white is composed of different proteins (65% ovalbumin). Egg yolk is an emulsion containing water, lipids, proteins (15% livetine and phosvitine), and the phospholipid lecithin. The yellow color is due to the presence of carotene pigments. Casein is the main protein in milk. It is a complex mixture of proteins and phosphoproteins.
5.1 METHOD
The protein test is based on the formation of a color complex of proteins with an organic dye (Bradford 1976). In this test, a blue dye complex is formed between Coomassie blue (brilliant blue G) and small amounts of protein in an acid-alcoholic medium.
5.2 PROCEDURE
The protein test flow chart is shown in figure 5. About 0.5 ml of distilled water is added to 5 mg of finely ground paint sample or the residue from the methylene chloride extraction (triglyceride test) in a 3 ml flat-bottom vial. The suspension is boiled on a hot plate for 2 minutes. After cooling to room temperature, the suspension is transferred to a microcentrifuge tube and centrifuged 1 minute. Three drops of the supernatant are added to 0.5 ml of protein reagent in a 3 ml test tube and mixed well. A positive protein test is indicated by the immediate formation of a blue color complex.
Fig. 5. Protein test flow chart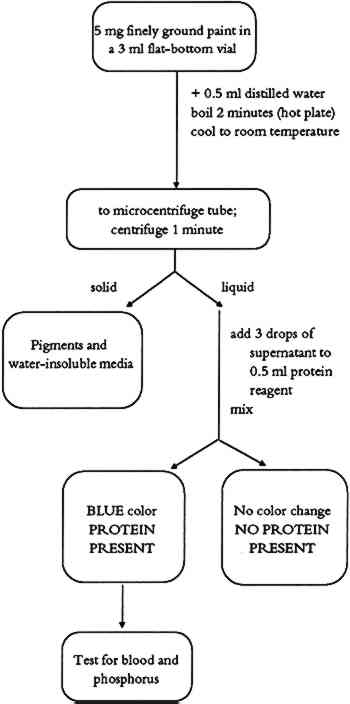 5.3 COMMENTS
Protein-containing binding media (animal glue, egg, casein, or blood) are determined with this test. Yellow ochre pigment was found to cause a weakened or negative protein test. Binding media of low protein content (egg yolk, or blood) may give weak positive test results.