THE EXAMINATION AND CONSERVATION TREATMENT OF THE LIBRARY OF CONGRESS HARKNESS 1531 HUEJOTZINGO CODEX
SYLVIA RODGERS ALBRO, & THOMAS C. ALBRO
9 REBINDING
THE REPAIRED text, composed of sections and single leaves, was reorganized and guarded into a series of sections in order to sew through the folds. After other bindings of the period in the Library of Congress and the Mexican National Archives had been examined, a cover design was developed for the Huejotzingo manuscript. Alum-tawed goatskin was sprayed with Levaderm dye (an anionic metal complex) in an alcohol solution. A vellum wrapper was attached to the dyed goatskin using Jade 403 polyvinyl acetate as a heat-set adhesive. Slits were cut into the spine of the cover. These were reinforced on the outside with vellum sewing tackets. Sections were sewn with linen thread through the slits made in the cover (fig. 14). This nonadhesive binding holds a permanent, semielliptical shape at the spine, which allows the text to open with a gentle arch and easily returns to form. The binding has two wooden and leather closures and resembles Spanish ledger bindings of the 16th century (fig. 9). When the binding was completed, a special box was made to protect the bound manuscript in storage.
Fig. 9. Completed manuscript in its new nonadhesive binding. designed to resemble 16th-century Spanish ledger bindings.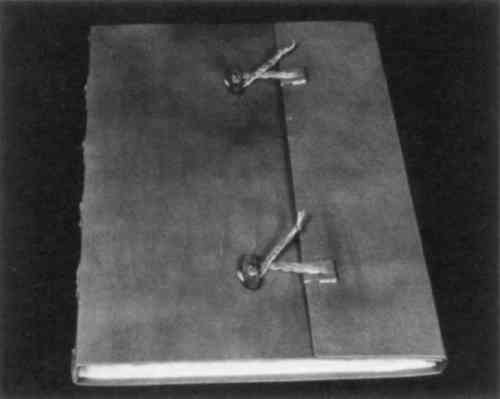 Fig. 14. Manuscript during rebinding. Linen thread is sewn through slits made in the spine, which are reinforced with vellum sewing supports on the outside. Alum-tawed goatskin over is attached overall to an interior vellum wrapper.