SPRAYED POLY (VINYL ACETATE) HEAT SEAL ADHESIVE LINING OF PEN AND IRON GALL INK DRAWINGS ON TRACING PAPER
Thea Jirat-Wasiutynski
4 PREPARATION FOR LINING
THE LINING FABRIC was cut to the required size and stapled to a strainer. A solution of poly (vinyl acetate) PVA/AYAF 10% in toluene to which a small fraction of diacetone alcohol was added to retard evaporation was sprayed onto one side of the lining with a spray gun set at a pressure of thirty pounds per square inch. The spraying was repeated several times, each application being followed by a period sufficient for drying, until a film, as thin as possible, yet adequate for bonding, coated the fibers. The lining, still attached to the strainer, was set aside for several days to allow most of the toluene to evaporate from the film.
Fig. 1a. Washington Allston, Angel (Washington Allston Trust, on deposit at the Fogg Art Museum, 8.1955.151), iron-gall ink on tracing paper, before treatment.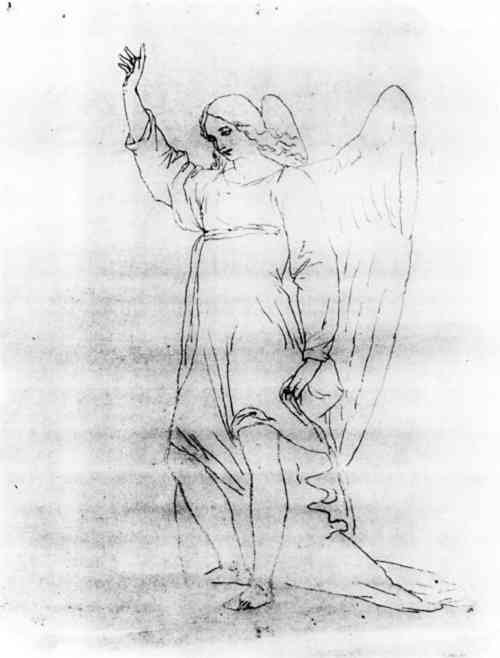 When the lining was removed from the strainer it was trimmed to measure approximately two inches larger on all four sides than the drawing to be lined. A clean blotter was used to pad a hard flat surface and on this a piece of silicone release paper was placed. Both these sheets were larger in size than the lining. The coated lining was put down, film side up, on the release paper and on this the tracing was centered face up. Another sheet of silicone release paper was placed on top to complete the sandwich.