IDENTIFICATION OF DYES ON OLD TEXTILES
Helmut Schweppe
5 ORANGE AND BROWN
FIGURE 2 shows the lakes of the commonest orange/brown natural dyes. These include young fustic (the most commonly-encountered orange natural dye), henna, annatto, walnut-shell, and cutch. Here too you can see that the colors of the individual lakes can be very different. Henna dyeings can be distinguished by the color of the iron lake, and annatto dyeings by the color of the uranium lake.
Fig. 2. Lakes of orange and brown natural dyes.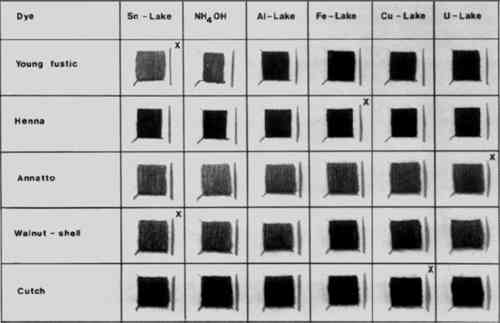 An important point to note about brown fabrics is that they are sometimes made from brown wool, and scarcely change color when treated with the various metal salts.