CONSERVATION OF A FAN
SANDRA GREENWALD VIERRA, & BETHUNE GIBSON
2 DESCRIPTION
The fan shown in Figure 1 is composed of two layers of silk between which is a supporting frame of brass spokes soldered to an ovoid, flat rim. The frame fits into a slot at the top of a handle cut from a single piece of ivory 23″ long by 1″ wide. Both ends of the handle are carved.
Fig. 1. Drawing of fan and frame.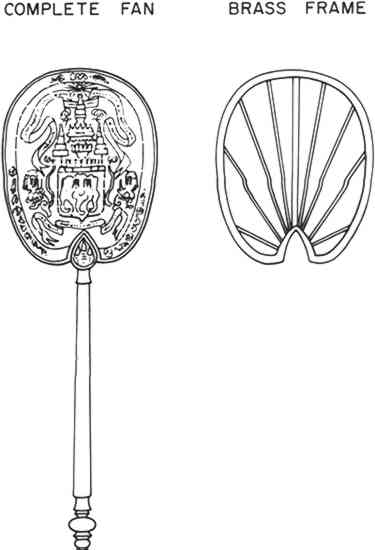 The silk panels are bound to the frame by a braid of black, yellow, and metallic silver threads. The front panel is elaborately embroidered in a satin stitch with multi-colored silk threads and outlined with metallic silver thread. The large central design represents the royal coat of arms of the King of Siam. The back panel is made of salmon pink brocade with a glossy surface. Alternating flower patterns are woven into the fabric.